M A I N N E W S
'Revised' Lokpal draft ready for Cabinet
70 amendments mooted, crucial meeting today
Anita Katyal
Our Political Correspondent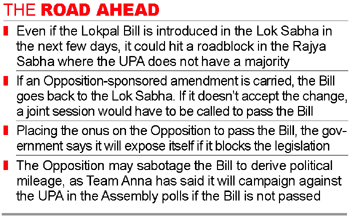 New Delhi, December 19
The late night meeting of the Union Cabinet that was expected to approve the Lokpal Bill today was postponed to tomorrow as the UPA government's "legal eagles" were locked in intense deliberations through the day poring over the fine print of the final draft of the proposed legislation.
After a flurry of meetings to clean up the Bill, Law Minister Salman Khurshid said the draft will be shown to Prime Minister Manmohan Singh and Finance Minister Pranab Mukherjee for their green signal after which it will be placed before the Cabinet tomorrow for its approval.
The Centre is faced with the unenviable task of drafting a Bill which appears to accommodate Team Anna's demands but, at the same time, does not erode the government's authority.
Given the timeline, Parliamentary Affairs Minister Pawan Kumar Bansal indicated that the revised Lokpal Bill can be expected to be brought to Parliament on Wednesday or Thursday. Bansal also said the present session may be extended by three days after the Christmas break if Parliament does not pass pass the Lokpal Bill this week.
Keen to push the Bill through in this session, the government's legal experts Home Minister P Chidambaram, HRD Minister Kapil Sibal, Minister of State in the PMO V Narayansamy and Khurshid spent the day going through the Bill with a fine toothcomb.
UPA sources said while the broad contours of the legislation were discussed with the PM and Mukherjee last night, Chidambaram today found fault with it. The delay was also being put down to the fact that there are nearly 70 amendments to the Bill. Consequently, the ruling coalition will introduce a new Lokpal Bill in the Lok Sabha.
UPA sources said though it had been decided to accept the BJP suggestion that the CBI director be appointed by a panel comprising the PM, Leader of Opposition and the Lokpal, Chidambaram objected and wanted to know whom will the CBI director will report to. Another view was the Lokpal could not sit in on the appointment of a government officer. The selection panel could now include the Chief Justice of Supreme Court or his nominee.
As the government mulled over the relationship betwen the CBI and the proposed ombudsman body, the Centre is determined that the investigative agency should be independent but wants to retain administrative and financial control over it. It is against handing over control of the agency's investigative wing to the Lokpal, as demanded by Team Anna. As a compromise, government is likley to arm the Lokpal with a unit which will conduct preliminary enquiries into complaints which could then be handed over to police or CBI for further probe. Lokpal will have the authority to supervise these cases. The Citizen's Charter will be incorporated in the right of citizens for time-bound delivery of services and redressal of their grievances Bill, which is to be introduced in Lok Sabha tomorrow.