US call centre Bill has slim chance of becoming a law
Ashish Kumar Sen in Washington DC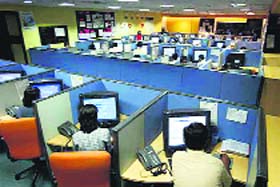 A Bill that seeks to bar US firms that outsource call centre jobs from receiving federal grants and loans has created uproar in India, but is nowhere close to becoming a law.
The Bill, introduced by Congressman Tim Bishop, a New York Democrat, has been referred to four committees in the House of Representatives: Energy and Commerce, Oversight and Government Reform, Armed Services, and Education and the Workforce. Bishop introduced the legislation earlier this month.
The US Call Centre and Consumer Protection Act is cosponsored by two Republicans, Congressmen Dave McKinley of West Virginia and Michael Grimm of New York, and two other Democrats, Congressmen Mike Michaud of Maine and Gene Green of Texas.
"We are hopeful that the hearings may be forthcoming next year due to the legislation's bipartisan support," Bishop's spokesman Oliver Longwell told The Tribune.
Congressional sources said the Bill stands little chance of becoming a law. The Bill requires overseas call centre employees to disclose their location to consumers in America and gives customers the right to be transferred to a US-based call centre on request. The Bill has the support of the 700,000-member Communications Workers of America.
"It is common sense that we should not be rewarding companies that ship jobs overseas, while millions of qualified Americans are looking for work," Bishop said. "Taxpayer dollars should only be used to give incentives to good corporate citizens who create American jobs," he added. The Bill would also require the US Department of Labour to monitor firms that send call centre jobs overseas.
These firms would be ineligible for any direct or indirect federal loans or loan guarantees for five years. Customer service/call centre employment in the US has dropped from 5.2 million in 2006 to 4.7 million in 2010 as the US firms have relocated operations overseas in a bid to cut their own costs, according to the Communications Workers of America.
India has been one of the main beneficiaries of outsourced jobs. Outsourcing has become a contentious practice as the US economy has stalled.
"If you are frustrated by dealing with call centres that are located overseas and having to worry about the security of your personal information, this Bill will give you a choice to deal with American workers who must comply with American laws," said Michael Gendron of Communications Workers of America.