M A I N N E W S
Storm over sub-quota for minorities
BJP warns of civil war as govt pushes ahead with 4.5% share in jobs within OBC pie
Aditi Tandon
Tribune News Service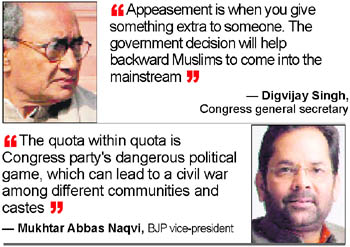 New Delhi, December 23
Even as the BJP and Vishwa Hindu Parishad ominously warned the government that its decision to fix a sub-quota for minorities within the quota for OBCs had the potential of triggering a 'civil war', the government pushed ahead with formalities to notify the Union Cabinet decision, so that the quota can come into effect from January 1, 2012. Backward castes and communities belonging to the five listed religious minorities of India — Muslims, Sikhs, Buddhists,Christians and Parsis — will be entitled to 4.5 per cent sub-quota within the existing 27 pc reservation currently available to OBCs for appointment and admission to central government institutions. Even Sikh OBCs will benefit. Since the sub-quota has been carved out for five nationally declared minorities, backward OBCs from these minorities will get the benefit even if they are a majority in a given state. So OBC Sikhs who figure in Central OBC list for Punjab will get benefit under this sub quota," Supreme Court advocate H.S. Phoolka clarified today. The 'pre-poll gimmick' has sharply divided political parties, with the BJP describing it as 'divisive' and Left Parties saying it is 'inadequate'. The Congress claimed the UPA has merely fulfilled a pre-poll promise while the Samajwadi Party demanded a higher quota for both OBCs and Muslims on the basis of their population.
Indeed, sources in the government said that the 4.5 pc sub-quota could be revised upwards after the Government receives the final figures of Census 2011 and the Caste Census currently in progress. The current sub- quota is an interim measure based on the OBC population estimates the Mandal Commission had extrapolated based on the 1931 Census data.
The sub quota will specially benefit Muslim OBCs from states like Uttar Pradesh and Bihar where the population of Muslim OBCs has been on the rise. In case of UP, the growth in Muslim OBC population (as per National Sample Survey Organisation rounds which Sachar Committee used) was 17.6 pc in five years.