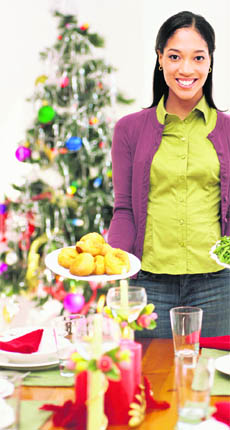 Christmas is the time to think of festivities. Apart from gifts and parties, a large part of the celebrations is about eating — from the rich X-mas cake to the pudding and from mince pies to plum tarts. Try out some of these authentic recipes and have a blast. Happy eating, says Sarah Painell
Traditional Christmas cake
Ingredients
Plain flour Four cups
Cinnamon powder 1 tsp
Baking powder 1 tsp
Salt Half tsp
Milk Four tbsp
Eggs Four
Butter 250 gm
Sugar 250 gm
Chopped cherries 100 gm
Coarsely ground dry fruits
(almonds, walnuts, cashew, kishmish) Four cups of Finely chopped rind One lemon
Method
Whisk sugar and butter to form a fine paste.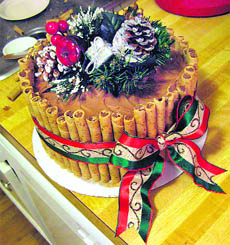 Whip eggs and milk finely and add to the sugar and butter mixture. Now pour in the flour, cinnamon powder and salt and blend into a fine mixture. Now add the dried fruits. cherries and the lemon rind.
Line the cake container with greased paper around the sides and bottom and pour in the cake mixture. Now put it in a moderate oven that should be 180ºC. After one hour, reduce the heat to 150ºC. Bake for around three hours and then leave it to cool for another three hours. Store in an airtight container. To add the real Christmas flavour, drizzle some sherry or rum on the cake. Even brandy would do.
Christmas Pudding
Ingredients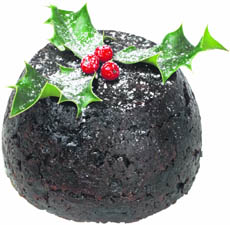 White bread crumbs Made from half a loaf
Mixed raisins and currants Two cups
Sugar 1-1/4 cup
Powdered cinnamon 1/2 teaspoon
Powdered nutmeg 1/2 teaspoon
Butter melted 250 gm
Eggs lightly beaten Four
Almond extract 1/2 teaspoon
Orange marmalade 1/2 cup
Rum heated slightly before serving 1/2 cup
A pinch of mace
Method
Put the crumbs in a large bowl along with the raisins, currants, sugar, mace, cinnamon and nutmeg. Then add the melted butter and all remaining ingredients except for the rum. Taste for seasoning and add more if needed. Pack mixture into the container and cover with wax paper and a tight lid.
Add about six inches of water in a pressure cooker and bring to a boil. Now carefully place the pudding container in the boiling water. Make sure the water comes up to one-third of the sides of the pudding container. Cover the cooker without the pressure and let the pudding steam for six hours, checking water level and adding to it now and then.
When the pudding is done it will turn dark walnut brown and will be quite firm to touch. Bring to table, along with the warmed rum, which should be poured around the pudding. Ignite it and let it flame.
Plum tarts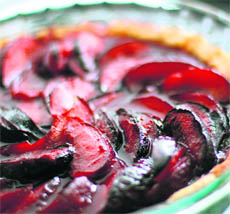 Ingredients (Dough)
Butter 300 gm
Plain flour (maida) 2 1/2cups
Baking powder 1 tsp
Cold water for kneading
Filling
Plums 250 gm
Sugar 3 tbsp
Water 1 cup
Method (dough)
Mix the flour and baking powder with the butter and blend it in roughly with your fingers until it is sandy. Add the cold water and mix quickly with your hand to make the dough smooth. Let the dough rest in a cool place for an hour or two. Roll the dough out with a rolling pin into a large, even square about 1/4 inch thick and fold in like a letter. Roll the dough out in the opposite direction; repeat the folding and rolling process several times to create the puff pastry. Let it rest in a cool place.
The filling
Cut the plums into thin slices, add the water and sugar and cook on a low temperature for 20 minutes. Let the filling cool down. Cut the pastry into 3-inch squares and place a mound of filling in the centre of each square. Split each corner from the top to within 1/2 inch of the centre. Pinch sides to form a star-kind of shape. Moisten the corners with water to keep them sealed. Brush the egg on the tarts and place on an ungreased baking sheet. Bake in the oven 225' C until the surface is golden brown. This will take approximately 15 minutes.
After cooling, you can sprinkle the tarts with powdered sugar so that the plum filling is seen as a small circle with white sugar coating surrounding it. This is very appealing to the eye.
Mince pies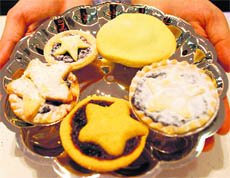 Ingredients (For shortcrust pastry)
Plain flour (maida) 200 gm
Butter 100 gm
Yolk 1 egg
Milk 3 tbsp
Filling
Finely minced meat 2 cups
Coarsely minced meat ¼ cup
Powdered sugar 4 tbsp
Egg whites 4
Walnuts, raisins, cashews coarsely ground 2 cups
Cinnamon and nutmeg 1 tsp each
Salt 1 tsp
Grated apple (1 large apple) 1 cup
Grated rind One lemon
Method (for pies)
Slice onions and fry them in oil. Now put in both kinds of mince meat, add a little water and let it cook in its juices after adding salt and chillies to taste. Now add dry fruit and all other ingredients and cook for another five minutes.
Roll the pastry out thinly. Cut out 12 rounds with a diameter of 2 1/2 inches and 12 rounds with a diameter of 2 inches (for the lids). Press the larger rounds into well-greased patty tins. Place one tablespoon of a little mincemeat into each. Beat the egg whites until they are frothy and smooth. Brush the edges of the filled pastry and 'stick' on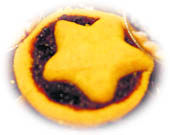 the pastry lids. Brush the tops with egg white and make three small holes on top of each pie. Sprinkle with superfine sugar. Bake at 200°C for about 25 minutes.
Method (for pastry)
Whip egg yolk with milk. In a separate bowl rub butter into the flour. Now mix the two and add enough cold water to make the dough. The dough should be of rolling consistency. — NF