SOCIETY

The world in your hand
By Roopinder Singh
Computing became more than mainstream, it became personal. Mobile internet access became an agent of change that connected people far beyond their geographic limitations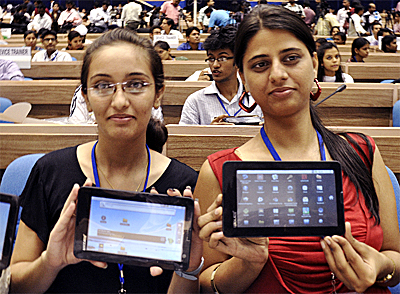 When AAkash is the limit

: The small and inexpensive Indian tablet Aakash made news for being the only tablet that is available for Rs 2,500

Computers are truly devices held in millions of hands worldwide. They connect the world like never before, and make it a global village. The world of technology lost its icon in 2011, but Steve Jobs left his mark for all to see. The computer came into our hands through smartphones and tablets this year. We had operating systems that competed with each other, hardware that out-specked its competition and even new applications that re-invented the old and gave it a twist. Such was the pace of new offerings that there was an embarrassment of riches that left consumers happy, though bemused.
With India finally being recognised as an important market, we saw product releases that were synchronised with international ones, and, at times, we got products that other markets, especially the US, did not have.
Everyone has a smart electronic gadget in their hands. Why, our honourable Members of Parliament, too, are getting assistance to get and use tablets so that Parliament can go significantly paperless. Not that much paper got used in the few sessions that the honourable MPs sat down for business, but that's another story.
Jobs' baby, iPhone 4S, came four months later than expected. It was not bigger than its predecessor, and was not the much-awaited iPhone 5, but it still became a bestseller, and had enough new features — the fast A5 processor, an improved camera and Siri, its voice-activated digital assistant — to make it stand out.
On the software front, the Android 4.0 Ice Cream Sandwich from Google strutted its stuff, including the capability to unlock a phone through facial recognition. Hardware from Samsung, Motorola and others improved to an extent where smart phones became faster than computers, and came with dual core processors.
As for tablets, our very own Aakash became the game-changer by breaking a price barrier and delivering functional tablets for less. For those who have more, the iPad 2 is still the market leader by a large margin. Yet, like the iPhone version only gained incrementally as it is thinner, faster and has two cameras now.
Everyone aspires to beat iPad2, and with Android tablets nipping at its heels, Apple launched a barrage of suits against its rivals, even as Amazon came out with the Kindle Fire, an e-book reader that is much more, and Nook brought out its own attractive product.
As consumption devices, tablets are now displacing laptops. Not that laptops are going extinct. Since people still have to work by typing on their keyboards, laptops are fast evolving into ultra books — the very thin versions with flash memory and the ability to start instantly. Apple's MacBook Air is one such device already available. Others in the Windows world are just on the horizon, with Intel backing them.
In a world dominated by slick and expensive gadgets, the small and inexpensive tablet Aakash made news simply by being there, the only tablet that is available on sale online for Rs 2,500. Datawind, the company that assembles it, created quite a stir, and got more than four lakh orders from individual and corporate customers.
Many months before Aakash made waves worldwide, people were already looking at the skies, looking for the 'super moon' which brought the moon closest to the earth in 19 years.
Mankind's quest for more information about planet Mars continued. NASA's probes worked at finding traces of life on the planet as a new $2.5 billion nuclear-powered rover was sent to the Red Planet in November. On the other hand, the Russian attempt to launch a probe failed, because of a mechanical problem with the rocket.
A quest of another kind continued as the search for evidence of Higgs Boson continued. It is also called 'The God Particle' and is critical in our effort to understand the structure of matter. Did you know that the sub-atomic particles, Bosons are named after the physicist Satyendra Nath Bose?
Indian scientists continued to search the skies as they sent satellites skywards on Indian rockets. ISRO scored far more hits than misses in 2011 by adding might to the defence forces with successful testing of Prithvi missile, and to India's space mission by PSLV launches. Thus, we not only reached for akash, we also held our very own Aakash in our hands.