SOCIETY

(Not) fit to print
By Vandana Shukla
The liberal use of profanities and cuss words in many films topped the charts. Interestingly, these were mouthed more by the women characters, which surprisingly found a tacit approval



Sex Sells: Playing the character of Silk Smitha in The Dirty Picture, Vidya Balan mouths slang with much ease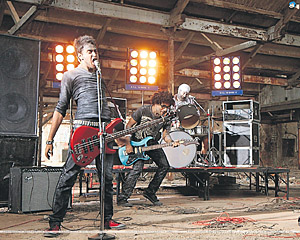 Profanity Pays: With more cuss words than dialogues, Delhi Belly, a guys' movie that revolves around the anxiety of having sex, topped the list of films littered with expletives

The cuss quotient of the urban society grew exponentially by 'c**s' and 'g**s'. Expletives could never have received such cultural acceptance in the middle-class urban India, had it not been for a few cult movies released this year, whose sole claim to fame was a liberal use of the profane. And, for a change, these were uttered by pretty damsels in Hindi.
A young widow of desirable dreams, played to perfection by Vidya Balan in Ishqiya uttered '** #*' sulphate' to put both her good-for-nothing suitors in their place. She cussed in such sexy disdain of the male world that it gave the women of the patriarchal land a kind of cuss anthem. Whatever **# * sulphate meant, the sheer contemptuousness of the sound of it filled damsels mouthing it with a sense of liberation.
Not that women had not uttered expletives before, they were used to cussing under their breath fearing social ostracism. Now when they utter **#*, they make sure they are heard in its complete phonetic and semantic glory. This is unusual, because using profanities has been a male prerogative, since all profanities are aimed at women.
Last, when a woman was heard cussing openly was in Gulzar's Mausam, released in 1975. But the character of Chandni played by Sharmila Tagore was that of a prostitute, and even she could not go beyond saale and haramzade, which are rather innocent lisping, compared to what the women want the world to hear from them, now.
In No One Killed Jessica, a petite, pretty TV anchor, piqued by a fan's irritating praise of the Kargil war coverage, feels pushed to her limits when the fan gushes how he 'enjoyed' watching the coverage. Rani Mukerji, who played the anchor, retorts, "saale tu wahan hota to teri ***#* ** haath me aa jati." It makes her co-passengers gape in disbelief, while she asks the airhostess for a copy of a newspaper, nonplussed. This was neither a woman from a chawl nor a hooker; but a sophisticated, educated woman using such slang, which was not considered 'propah' a few years back. But women in stressful situations have found legitimacy in cussing. It works as a kind of stress buster. It also reflects heightened assertion of their confidence — they care two hoots for what the world thinks of them!
In The Dirty Picture, once again Vidya Balan, in her unapologetic avatar of a southern sex siren of the 1980s, mouths slang with a great ease. Essaying the role of Silk Smitha, a woman who knew her sexuality was desired by men and would pave her way for success, utters, "mere maathe par ** #* likha hai?" to the man she loves and knows is exploiting her. The dilemma of the daring character on a fast track seeking both success and love, and her lingo of frustration finds an echo among the urban classes of 2011.
But, the film that topped the liberal use of profanities was Delhi Belly, with its deceptively sleek title. Since it was a guys' movie that revolved around the anxiety of getting laid, it was littered with dirty talk. The movie's songs`A0"Bhag bhag DK Bose"`A0and`A0"Ja chudail"`A0courted controversy, and the film opened the ears of the Indian society, and helped it hear the way it speaks in crowded lanes, traffic jams and in bedrooms, removing cobwebs of imposed decency.
The expletives carried more shock value for the language they were uttered in. It hurts less if you use the f`85word, in English, the moment you translate it in the vernacular, for some strange reason, it acquires higher decibels of profanity for the urban sensibility.
Perhaps, it was a deliberate attempt on the part of the film makers, so obsessed with everything English — from the locales to the costumes, to their perpetual 'I love you' and 'I hate you' leitmotif, which never gets translated into the vernacular. But, the expletives do.
As though, dialogues littered with cuss words could not reflect enough realism of our times, Kaushik Chatterjee's Bengali film **# — the Loser has an unprintable title. The film with the unprintable title has been making rounds in the major film festivals. Though, at Berlin Film Festival, some people walked out in protest. After all, there is a difference between a nude painting and a porn film. And, between the printable and the ***###.
| | |
| --- | --- |
| When Everybody went Gaga | Eve-teasing gets fatal |
| Many A-list celebrities from the West made a beeline for India, which despite a limping economy, remained a toast for Hollywood. The guest list included Lady Gaga, Shakira, Tom Cruise, Akon, Brad Pitt and Angelina Jolie and Paris Hilton. | Two young boys Keenan Santos and Reuben Fernandes lost their lives in an eve-teasing brawl in Mumbai. The bravehearts were stabbed to death, while trying to take on the eve-teasers. |
| A salute to Surrogacy | Granddaughter's day out |
| More power to Aamir Khan and Kiran Rao for candidly admitting to having a baby through a surrogate. Unlike celebrities for whom usually the image is supreme, this power couple proved that being truthful always scores. | Despite the skewed sex ratio, the whole nation celebrated the birth of Aishwarya Rai and Abhishek Bachchan's baby girl. |