Chatter box
Aman loves being bad

Villainous role: Aman Verma

Talented actor Aman Verma will be soon essaying an interesting character in Zee TV's hit prime time show Chhoti Bahu. Aman has been roped in to play the role of an Asur (demon) and he will prove to be a formidable opponent against Lord Krishna's Godly powers. The current track in the serial has been well received by viewers and Aman Verma's powerful entry will surely add an interesting angle to the story.
An Indya source informs, "The storyline shows that Lord Krishna decides to teach Barkha a lesson for killing Radhika. Krishna assumes Radhika's shape and enters the Rajpurohit household post which there has been a series of miracles inexplicable to normal human beings leaving inmates baffled. Barkha is suspicious and catches Radhika (Kanha in disguise) inadvertently performing some magic tricks. She decides to teach Radhika a lesson and introduces a man who is nothing short of the devil's incarnation. He has dark supernatural powers whose job will be to give Kanha a tough fight. He is the quintessential Asur who is equally powerful and will rise against the Lord."
Aman Verma explains, "This is going to be a very challenging role. I will enter the Rajpurohit house as Vishwanath, an estranged uncle of Dev (Avinash Sachdev) who left home 18 years ago. My character has shades of grey which will be kept under wraps under an able guise of a smart attire and suave look. It will be tough to play the role of an Asur battling the God himself. Looking forward to the challenge."
He further adds, "I like how people love to hate me. That's a gratification. In this show, they needed an actor to match the intensity of the main lead. So here I am." Ask him about doing negative roles and he says, "As long as I am acting and doing my best, I can sleep peacefully every night, feeling content."
Tune into Chhoti Bahu every Monday to Friday 7:30 PM, only on Zee TV.
Emotional act: Sohail Khan

Sohail's commitment
Ek Baar Jo Maine Commitment Kar Di, Fir Main Apne Aap Ki Bhi Nahi Sunta – Sohail Khan it seems is living up to brother Sallu's vow to the fullest. While shooting for everyone's favourite comedy show Comedy Circus Ka Naya Daur's Grand Finale, Sohail Bhai got emotional when Krushna Abhishek did a satire portraying Archana Puran Singh starting a hunt for the new judge for the next season. Sohail Khan was so moved by this that he affirmed in front of all, that come what may it's a assurance from him that he will always watch all the episodes of the next season of the show. We do believe you Sohail!
Like mother, Like son
It must be the first time ever in the history of Indian television that a mother and son are seen on the same channel. While mom Vibha Chibber is seen playing the toughie Mrs. Bindeshwari Kaushik in Zee TV's Mrs. Kaushik Ki Paanch Bahuein at 10 pm, beta Puru Chibber has been roped in to play the role of Manav and Archana's grown up son, Sachin Deshmukh in Pavitra Rishta that airs at 9 pm on the same channel. Vibha Ji talks about her son's ambitions saying, "Actually I always thought my son would grow up to be a cricketer, as he played cricket exceptionally well. But in his 10th class, he declared he wanted to act. I did theatre in Delhi so I came to Mumbai for him. In a way, his ambitions fuelled mine and I am glad we are both working for Zee TV."
Confession time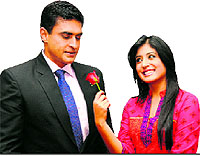 In the upcoming episodes of Sony's Kuch Toh Log Kahenge, Ashutosh's friend Armaan and Nidhi's friend Rohan will try to get both of them together, so that they can confess their love to each other. Nidhi has confided in Rohan that Ashutosh does not love her. On the other hand Ashutosh told his friend Arman that Rohan is the right guy for Nidhi as he is younger and will keep her happy. Oblivious to both of them, Arman and Rohan make a plan to bring them closer. Will Arman and Rohan's efforts be fruitful?

In love: Kritika Kamra and Mohinsh Behl

Gurmeet's favourite holiday spots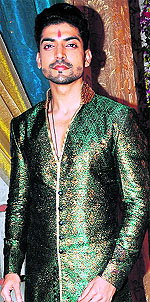 Beach man: Gurmeet Choudhary
With a body like Gurmeet Choudhary, it's no surprise that the actor loves beaches. He loves to travel and visit various places. We quizzed Gurmeet about his five favourite holiday spots.
Goa
I keep going to Goa whenever I have free time. This year alone I've visited Goa six times. But I never really get bored of Goa. I feel very fresh and rejuvenated.
Dubai
Dubai as they say is a place for women to shop. Debina loves to shop in there. So I've been forced to like the place. We keep visiting Dubai every now and Debina goes on her shopping spree.
Bangkok
It's a special place for me because Debina and I had gone there for our honeymoon. We have many special memories attached with the place. It has to be our favourite.
Malaysia
I went to Malaysia for five days on a package deal. I got a lovely resort which served amazing food. It was ideal. I hope to visit there again in future.
Puri Jagannath
I like it because I find solace in there. It is also famous for Lord Vishnu's temple. I keep visiting there to seek blessings. Also, I love the beaches there. You will find no one there unlike other places.
Pink City tour
Imagine's Beendh Banunga Ghodi Chadhunga shot in the picturesque locales of Jaipur and had a blast.
The whole unit shot in various hot tourist spots and mixed work with pleasure.
They got to visit Khatu Shyamji, Albert Hall, Rajmandir, Jal Mahal, Bapu Bazaar and Johri bazaar.