Make the year end a time to carry out a self-appraisal and set goals to give your career a direction, says Preetinder Kaur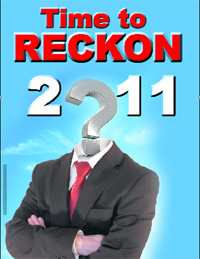 You can set positive new resolutions for your life anytime you choose. TheNew Year just gives us a great opportunity to reflect on our achievements in the past year and set some meaningful new goals for the year ahead. Yearend performance reviews are a great opportunity to look back at the year gone by and to set attainable goals for the next one. Irrespective of when your company schedules its annual appraisals, it is a smart move to schedule your personal appraisal towards the end of a year as it is a great way to help you reach your career goals. The advent of a new year simply serves as a good reminder to reflect on all the progress you've made over the past 12 months and take what you've learned, and build a roadmap for the coming year and beyond.
Career Hotline
Work on your accent
Q. I have a strong vernacular accent (I'm from a rural Punjabi background), but am very keen to join an international call centre. Also, I think I speak too fast. Will this act as a disqualifier during the interview? — Honey Bedi
news board
Stressed Chinese fight back with pillows
A whirlwind of pillows bearing the names of bosses and teachers filled the air as hundreds of Chinese gathered to blow off stress in Shanghai, staging a massive pillow battle.
CareerCature
Sandeep Joshi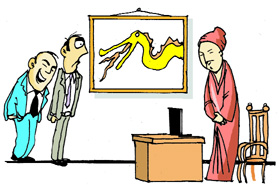 In 2012, I plan to change everything, including the staff, as per Feng Shui.
Hiring SCENE
Caution laces Optimism
The Indian job market is expected to see slower hiring activity, but double-digit salary hikes next year as employers are embracing a "cautiously optimistic" approach amid the economic uncertainty.
HR trends that rocked
It has been a year of enlightenment as far as HR measures adopted by companies across the board are concerned. This year HR discovered different data points along with the integration of technology. The HR domain not only gained new insights from data but also boosted company wide communication for a better employee experience. J&C brings you some trends that rocked in 2011 as companies donned an employee-friendly mantle:
recruitment trends 2012
Power & automobile sectors in positive mode
Power and automobile sectors are among the sectors that will be looking to consolidate their work force substantially in 2012. "The hiring trends in the power sector have immense job openings in both private and public sector as there is a huge demand-supply gap of talent in this sector", says Vinay Grover, CEO, Symbiosis Management consultants, an executive search firm.
Boom time for R&D
With global companies shifting their R&D base to India to achieve greater cost-efficiency and domestic firms increasing their spending on these activities, experts feel hiring in the segment will increase by up to 20 per cent in 2012 vis-a-vis the current year.
career compass
Milking SUCCESS
If you have a scientific bent and are looking for a career away from the hurly-burly of urban life, then dairy technology can be an attractive proposition, says Zubin Malhotra
Course CHAT
Course on Urban India & Environmental Sustainability
The Indian Institute for Human Settlements (IIHS) is going to start a short course on "Urban India & Environmental Sustainability" in order to help students and working professionals to identify and address key issues of environmental sustainability that Indian cities are facing currently. It will also serve as a platform for participants to discuss their own approaches to sustainability, and grapple with challenges that they face in their own practice.
Happiness @ work
Gems of ancient wisdom
A reminder doesn't hurt
Each one of us has to take care of so many things. So send a reminder if you think someone has forgotten about an important assignment.