Punjab's fuel octroi cut remains on paper
Ruchika M Khanna
Tribune News Service

Chandigarh, December 27
The last-minute effort by Punjab's SAD-BJP government to woo the urban voters by withdrawing octroi levied on petrol and diesel has turned out to be their blooper.


Jalalabad For Sukhbir
Chandigarh: The SAD on Tuesday announced the candidature of party president Sukhbir Singh Badal from Jalalabad, putting an end to speculation on the Deputy Chief Minister shifting to a safer seat. The second list of nominees also announced the candidature of former Lok Bhalai Party chief Balwant Singh Ramoowalia from Mohali. — TNS
Hours before the model code of conduct for the upcoming Punjab Assembly elections came into force on December 24, the state government announced the withdrawal of octroi - not through a notification (as is required), but simply through an office memo.
Though the state government announced that the new reduced rate of petrol and diesel (a drop of 70 paise and 80 paise per litre in petrol and diesel respectively) would come into immediate effect (from December 24), the state-owned oil marketing companies - Indian Oil Corporation (IOC), Hindustan Petroleum Corporation (HPCL) and Bharat Petroleum Corporation (BPCL) have refused to reduce the retail price of these fuels, saying that the same could be done only if the state government issued a notification to this effect.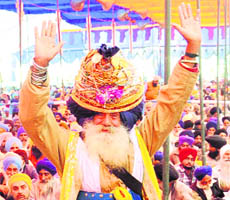 A nihang during a rally at Jor Mela in Fatehgarh Sahib. Tribune photo: Pradeep Tewari
JP Khanna, president of the Punjab Petroleum Dealers Association, said that the SAD-BJP government had fooled the people by hurriedly announcing the reduction, even as it failed to issue a notification.
And even as hundreds of thousands of consumers across the state fought with the owners of fuel retail outlets, the state Election Commission has now taken cognisance of this sop offered by the ruling combine on the same day that the model code of conduct came into force.
Talking to The Tribune, Kusumjit Sidhu, Chief Electoral Officer, said that she had written to the Chief Election Commissioner pointing out that the withdrawal of octroi on the day elections to the state Assembly were announced, was a violation of the model code of conduct.
"We have also sent a copy to the state government which has claimed that only an office memo was issued and a notification withdrawing octroi has not yet been issued," she said.
Meanwhile, officials in the state Local Bodies Department said that the office memo, withdrawing octroi on petrol and diesel and compensating the local bodies through VAT collections, was issued with the consent of the Chief Minister.
"We have already initiated the process of amendment of three Acts - VAT Act, Municipal Act of 1911 and Municipal Corporation Act of 1976. It is only after these Acts are amended that we can issue a notification," said a top official in the Local Bodies Department, adding that they would wait for a response from the Chief Election Commissioner before issuing a notification.