M A I N N E W S
Jaipur doc earns pilgrim No.1 cr tag at Vaishno Devi
Devinder Thakur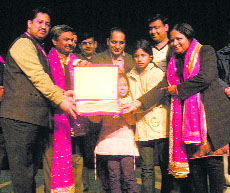 Rakesh Vishwakarma (second from L) being feted. Photo by writer

Jammu, December 28
The popular pilgrimage to the holy cave shrine of Vaishno Devi set a new record today when it crossed the 10-million mark of visitors, a first in any year.
Rakesh Vishwakarma, a doctor by profession from Jaipur, Rajasthan, registered as the 10-millionth pilgrim visiting the cave shrine this year. He was given "maa ki chunri", a memento of the cave shrine and official guest status for the next five years by Shri Mata Vaishno Devi Shrine Board authorities. Rakesh Vishwakarma expressed happiness over getting the distinction of being the 10-millionth visitor to the shrine. He termed it as a blessing of Goddess Vaishno Devi.
"This is for the first time that the number of pilgrims has crossed the 10-million mark in one year," additional chief executive officer MK Bhandari, said.
The number of pilgrims in 2010 was 8.75 million.
"The board was formed in 1986 to manage the shrine. At that time, the number of pilgrims visiting the shrine was around 1.3 million," Bhandari added.