Expectation & trepidation
The dawn of 2011 held the promise of a bright and productive phase for the realty sector. But the tremors of economic uncertainity and torrents of rate hikes courtesy the RBI curbed the spending spree of investors and buyers, while the builders grappled with increasing construction costs and debt burden and diminishing sale volumes. On the last day of this year we look back and take stock of the realty scenario in the country and the region
Samir Jasuja

Year 2011 witnessed many significant developments that impacted the Indian economy. Rising inflation, depreciating Rupee value, decreasing Gross Domestic Product (GDP) numbers, low industrial production levels, declining foreign investments, ever increasing interest rates along with global uncertainties, have been in the headlines throughout the year. Recently, the government slashed its GDP forecast to 7.5 per cent, compared to over 9 per cent projected earlier for the current fiscal. All these factors affected the Indian realty sector on the whole and clouds of gloom loomed over the horizon for most of the year. The overall sentiment remained negative with developers, investors and end users all grappling with their own set of difficulties and dilemmas.

Liquidity concerns

During 2011, limited access to funds, increasing cost of debt and high construction costs remained a concern for developers. Private Equity (PE) investors' expectations have been hit due to difficulty in enforcing covenants, while the banks are already going slow on realty lending. Besides, foreign investors are skeptical about prevailing market sentiments post the European crisis and fallout of regulatory changes. RBI data shows that gross bank lending to real estate sector grew by 11.6 per cent (data as on October, 21) as compared to 15.7 per cent during the corresponding period last year. FDI figures, too, portray a similar crunch with 26 per cent decline even on annualised basis.

Given the liquidity crunch, during 2011, developers have been going slow on execution resulting in construction delays and higher unsold inventories. Till September, Delhi-NCR had the maximum unsold inventory levels of residential real estate at 102,758 units, followed by Mumbai Metropolitan Region (90,512 units), Bangalore (46,596 units) and Pune (40,734 units). Comparing year-on-year growth, Chennai and Bangalore had the maximum piled up inventory at 52.7 and 41.2 per cent, respectively.

During 2011, developers also went slow on fresh launches. Most developers are still affected by regular regulatory bottlenecks like delay in project approvals and land acquisition related uncertainty (especially in Noida and Greater Noida). Hyderabad registered the steepest yearly fall in fresh launches at 55 per cent, followed by Pune (54 per cent)

and Navi Mumbai (50 per cent).

Buyers' woes

Affordability has been the biggest concern for buyers. During 2011 RBI continued its stance of keeping the policy rates high and announced seven rate hikes in the year. Collectively, RBI has now hiked its key policy rates 12 times, aggregating 375 basis points since March 2010. The banks have responded with similar hikes in lending rates. Inflation, however, still remains high at 9.11 per cent for November, 2011.

The buyers have been expecting a price correction which hasn't happened delaying their buying decisions. Major residential markets across India have witnessed a steady price rise. In fact, in markets like Gurgaon and Mumbai prices are already surpassing pre-crisis levels of 2008. Gurgaon has seen the maximum price appreciation (21.4%), followed by Mumbai (13.2%) and Pune (12.5%).

Developers have been reluctant to reduce prices due to the tight liquidity situation. Also because of increasing inflation, the cost of construction has increased for developers.

Developers have come up with alternate strategies, including other funding sources (e.g. private equity), disposing off non-core assets, loan restructuring, varied promotional schemes, and more focus on quick selling plotted development to generate sufficient cash flows.

Thus, given the above concerns for developers and buyers, gross absorption across major markets declined significantly over the past year.

Outlook for 2012

The near term outlook for residential real estate market is likely to remain cautious, given the likelihood of low market sentiments. Key market indicators including absorption and new launches are likely to remain low given the execution concerns. Developers may focus on execution and delivering the committed projects in 2012 rather, than launching slew of new projects to avoid insurmountable inventory overhang.

In terms of prices, the pace of appreciation may be marginal because of low sales volume and even decline. Decline could however, be developer specific and may be a result of factors, including price holding capacity of the developer (depending on the debt level and working capital availability), future projects in the pipeline etc.

RBI has hinted that reversal in policy is on the cards as inflation is expected to decline in the next few months, but benefits from this possible rate cut would come with a lag.

However, for those having enough cash, time is ripe as developers are ready to negotiate on prices.

— The writer is founder and CEO of PropEquity, a real estate data, intelligence and analytics provider

Region scan

Though there was a marginal appreciation in Ludhiana, Amritsar, Dehradun, Mohali, Faridabad, in Chandigarh and Sonepat prices saw a downward trend with the difference between Q1 and Q3 being in the range of 25 to 30 per cent. The prices, however, remained robust in Gurgaon and Panipat with 10-15 per cent hike between Q1 and Q3 in 2011.

Pricing in smaller cities doesn't seem to be a problem given the robust demand for residential units. In fact, rational based pricing has been a demand trigger for these cities. In the last several quarters, prices have remained stabilised in most of the cities (excluding Sonepat and Chandigarh), with modest appreciation in most cities.

Barring Gurgaon, Mohali and Faridabad, significant supply is yet to hit the market in 2012 for other cities. However, most of the projects are witnessing good absorption levels, which should be encouraging for developers. Challenges for them would be to overcome obstacles like rising construction cost and high cost of capital and set the benchmark with timely project delivery.



Winds of regulatory changes

The sector saw many events which had political as well as social ramifications. The Noida Land Acquisition problem, demand for separate state for Telangana in Andhra Pradesh, land scams like Adarsh Co-operative Housing Society, LIC Land scam are the events which will mark the start of fresh reforms in the sector.

Land acquisition Bill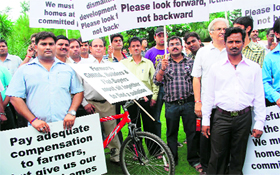 During 2011, a revised version of the "National Land Acquisition and Rehabilitation & Resettlement Bill, 2011" was unveiled. The basic objective of the policy is to offer comprehensive rehabilitation package to land owners, including those primarily dependent on land, and regulations for smooth land enforcement.
Impact: The enforcement of the Bill will make the process of acquisition of agricultural land more transparent and regulated for all stakeholders. But this can't be denied that land value would escalate for the developer, thereby increasing the project cost.
Real Estate Regulation Bill
The unrest in Greater Noida by farmers over higher compensation for their land being acquired by real estate developers acted as a starting point for the Real Estate Regulation Bill. The draft Bill has currently been made available for public comments. The Bill aims to clip the wings of fly-by-night developers, facilitate transparency, assure consumer protection against developers' malpractices, and encourage fair practices in the sector. Under the Act, a regulator would be set up, with whom the developers will have to register their individual projects, make commitments regarding project completion, specifications, and possession.
HIGHLIGHTS
n Realty growth dips from 25-30 per cent to about 15 per cent.
n Noida and Greater Noida, which had dominated affordable housing sales in NCR, suffered a setback due to land rows. 160,000 units remained unsold in NCR.
n Subsidy on home loans of up to Rs.15 lakh
n Sale deed made mandatory by Supreme Court for property transfer.
n Circle rates hiked in Delhi to curb black money flow.
n National Investment and Manufacturing Zones to boost industrial real estate.
n Introduction of green building rating
n DLF fined Rs 630 crore for abusing its dominant position, tribunal stayed penalty.
n Sahara realty ordered to refund money to investors, order challenged.
n Number of realty firms deferred public offers.
n Government failed to introduce Real Estate Regulatory Bill.
n Land Acquisition and Rehablitation Bill also not introduced.
n Top 11 listed real estate companies accumulated a debt of over Rs.38,000 crore, with DLF alone contributing more than 50 per cent to it. — IANS