Disease that makes winter unbearable
Dr Vikas Sharma
Contact with fresh tap water while doing normal house-hold work is enough to freeze her fingers, turning them blue and numb. "They turn purplish blue, almost like they're stained after coming in contact with a carbon paper," explains a young woman whose suffering continues until the end of the winter months. "Usually, my thumb, index and middle fingers on both hands are affected more than the others."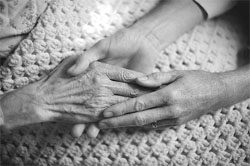 "People make comments when they see me wearing gloves in parties what they consider to be unusual. They ask me if I am coming straight from hills and have forgotten to remove them. "I also used to wear gloves in my office and people would say, 'Um, are you cold?' Yes, I was."
She suffers from Raynaud's disease, a painful, annoying and sometimes embarrassing disorder of the blood vessels that affects an estimated 7-30 per cent of people worldwide. People with Raynaud's are unusually super-sensitive to cold temperatures, and even the briefest exposure (like holding a cold can of soda, or taking something out of the freezer) can trigger a Raynaud's "attack," causing fingers or toes to feel numb as they turn a patriotic shade of either red, white or blue.
Essentially, it's due to vasospasm, or hyperactivity of the blood vessels and it is a normal response of the body in trying to stay warm to constrict those vessels, but this is a kind of a hyper-response to that.
In other words, when people with Raynaud's feel cold, they're really cold. When you feel cold, your blood vessels constrict, which reduces blood flow and cuts down on heat leaving your body. But in people with Raynaud's, the blood vessels overreact, shrinking so much that very little blood is able to flow to the fingers or toes, which is what makes them feel numb and change colour. (It's rare, but Raynaud's can affect the ears, the lips, the nose and even nipples.)
About 80 per cent of Raynaud's sufferers are women. Sometimes, Raynaud's is caused by an autoimmune disorder such as scleroderma, or by a medication, but in most people it is a primary problem while in others it is an indicator of something internal.
Female patients of Raynaud's, with the age of onset being over 25 years, with no pre-existing intolerance to cold, no history of occupational, traumatic and medication exposure, need thorough investigation to rule out autoimmune disorders like systemic sclerosis, systemic lupus erythematosus, scleroderma, rheumatoid arthritis and dermatomyositis.
A typical attack consists of sudden pallor (white-yellow) of one or more digits, followed after a few minutes by bluishness and then redness. The condition is usually symmetrical and affects several digits. The secondary changes that can occur include visibility of dilated blood vessels on nail folds, thinning of nails, thinning and atrophy of fingers. It is of paramount importance to rule out an autoimmune collagen vascular disorder because then there is a very high possibility of involvement of other organs and in some cases development of gangrene at the localised site.
The key is simply to keep warm even when that means looking a bit silly. But patients with primary Raynaud's often respond to conservative measures, including wearing of two layers of gloves , inner cotton and outer woolen. Avoidance of exposure to cold, wet and windy climatic conditions helps a lot.
Smoking is prohibited as it can aggravate the condition.
Even placing hands too close to heaters/blowers should be avoided especially after an attack of Raynauds' following sudden exposure to cold.
Patients need full emotional support. Stress is an aggravating factor. Modifications in daily life and work are necessary. Occupational exposure may warrant change of Job/place. A balanced diet and avoidance of drugs like oral contraceptives, heavy metals and beta- blockers is a must.
When these measures are ineffective, the medications of choice are topical and oral vasodilators, especially calcium channel blockers.
Other diseases of abnormal sensitivity to cold include perniosis, acrocyanosis, livedo reticularis, etc.
Chilblains (Perniosis): It attacks with painful, red coloured often itchy skin lesions which may blister or ulcerate. They occur especially on fingers and toes, nose and ears. In contrast to normal individuals, in whom moderate cold exposure induces the constriction of blood vessels supplying skin over the area, which is then succeeded by vasodilatation in an attempt to maintain reperfusion, a persistent cold-induced constriction of large vessels that occurs in those individuals who are affected by chilblains.
The writer is the Chief Consultant-Dermatologist and Dermato-Laser Surgeon, National Skin Hospital, Panchkula. E-mail :  drvikas.nscindia@gmail.com