M A I N N E W S
Total disregard for SC norms led to Ambala tragedy
The ill-fated van had no fog lights, no grills on windows, no attendant, all made mandatory by the SC
Tribune News Service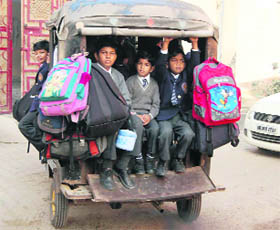 PERCHED PRECARIOUSLY: Students of a prominent Sirsa school on their way home. A Tribune photograph
Chandigarh, January 3
The avarice of the school management, the absence of a regulatory mechanism and total disregard for the guidelines issued by the Supreme Court for school vehicles are some of the main causes behind yesterday's tragic accident in which 11 children lost their lives in Ambala district.
As reports suggest, the ill-fated school van had no fog lights, no horizontal grills on windows and not even an attendant, though all these are mandatory as per the apex court orders.
The Ambala school is not alone to violate the court guidelines. A large number of schools and other educational institutes across the state are guilty. Unfortunately, it takes a tragedy to wake up the authorities. The steps announced by the district administrations in the state now after yesterday's tragedy, if taken earlier, might have saved several families from the extreme grief.
Managements often allow children in school vehicles in excess of the vehicle's capacity to make extra money. Even Chandigarh, which has a fairly good regulatory mechanism, is no exception.
Drivers hired by schools are semi-trained, having no orientation for driving school vehicles. Many of them learn driving while working as assistants to drivers of commercial vehicles. Managements hire them because they agree to work on low remuneration. Transport authorities, whose responsibility it is to ensure that the school buses are run in accordance with the Supreme Court guidelines, do not find the checking of schools vehicles "lucrative enough". They prefer to spend their time on commercial vehicles. It would be interesting to know how many school vehicles were booked by the transport authorities in each district during the last one year. The figure is sure to be nominal. Meanwhile, one person was killed and another seriously injured on Tuesday when a truck coming from Saha hit their motorcycle on the Saha-Shahabad road. The deceased has been identified as Yogesh (22), a resident of Khozkipur village in Yamunanagar district. Rajpal (25) of Dukheri village, who was seriously injured, was rushed to Civil Hospital Ambala Cantt.
TIPS FOR SAFE DRIVING
Fog is caused by suspension of fine droplets of moisture in the air. When light hits the droplets, it tends to scatter and reduce contrast and visibility.
n Fog distorts perception and judgment
n Drivers tend to misjudge speed and distance
n Gets more difficult to distinguish between objects that are still and those in motion
n Drivers tend to misjudge the time taken to stop the car
IF YOU MUST DRIVE THROUGH FOG
n Slow down and put your lights on
n Use headlights in low beam and fog light
n Turn off cell phones and music system
n Use defrosters and wipers
n Increase following distance
n In dense fog, pull completely off the road, turn on parking lights or emergency flasher
WHAT YOU MUST NOT DO
n Don't stop on the road
n Don't speed up suddenly when the fog appears to clear
n You may suddenly find yourself back in fog
n Don't overtake in fog