M A I N N E W S
No lessons learnt from Melbourne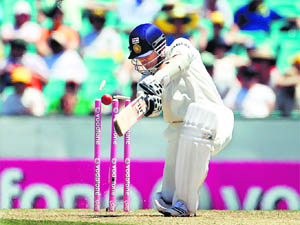 India collapse again:

Sachin Tendulkar is bowled out by James Pattinson after scoring 41 at the Sydney Cricket Ground on Tuesday. India were bowled out for 191 in the first innings of the second Test. In reply, Australia were 116 for three at stumps.
Indiaís batsmen showed that they hadnít learnt anything from the first Test by losing their wickets in pretty much the same manner as they did at Melbourne. Having been dismissed under 300 in an overseas Test match for the umpteenth time, they have squandered the advantage of winning the toss and unless the bowlers pull it back, this Test too is slipping away from India.
Any pitch is going to have some life on the first day and especially the first session and that is where some discipline has to be shown. Gambhir is going through the horrors. He got a beauty in the first over itself and that is always a hazard for an opening batsman, that before he can find his feet the unplayable ball comes along and gets him.
Dravid is doing what Ponting has been trying to avoid and that is falling over on the offside with his front foot. When the ball is not pitched up then trouble starts, but he is an intelligent batsman and will recognise this if he has not done so already.
Most others are still in the one-day mode, where a batsman cannot afford to have dot balls and so looks to play most, if not all of them. That is how Sehwag, Tendulkar, Kohli and Laxman were dismissed playing at deliveries they could have well left alone. By losing their first four wickets in the first session itself, India wasted the chance of batting first and putting some serious pressure on the Australians.
If the Indians had just tried to hang in there and let the pitch ease after the first session, batting would have been easier then on. Test cricket is a five-day game and there is plenty of chance to make up for a slow watchful, but wicket-less beginning.
Once a solid start is on the board then the stroke players can always get going, but if they have to face the bowlers when they are fresh and the ball is moving then they get into problems.
India struck back through Zaheer Khan, but Ponting and Clarke have thwarted them with a partnership which is looking ominous. India must ensure that they do not concede a big lead otherwise the match could go out of its hands. We in India get excited if a bowler bowls over 145 kmph, but what good is it if he does not get wickets.
Today, with all the protective equipment batsmen are just not bothered about pace and as Australia's bowlers have shown, it is movement in the air but especially off the pitch that gets rid of class batsmen. Ishant is bowling way too short and Yadav is pretty new and so is still learning. Yet he has looked dangerous whenever he has bowled the ball fuller and got it to seam off the wicket. That is what Ishant needs to do. Like Pattinson has used his height well, Ishant, who is taller, should also mix it up and cause problems to the batsmen.
India, are in a precarious position. It's famed batsmen have let them down and it is for the bowlers to rescue them by restricting Australia and give another chance to the batsmen to show the class that has made them world famous. ó PMG