Love for the land
A creative mind likes to play with the object, till the time it finds another one. For young director Navaniat Singh of Mel Kara De Rabba fame, the object of attention is only Punjabi movies. And he doesn't feel he would be moving over it anytime soon. Till the time he gets to play with this object reasonably, there is definitely no stopping him! Visiting Chandigarh for the post-production of his soon-to-be-released movie Taur Mittran Di, the director along with his lead actors Amrinder Gill and Rannvijay, wants to give a twist and a rather young look to Punjabi movies.

ON TRACK (L-R) Amrinder Gill and Navaniat Singh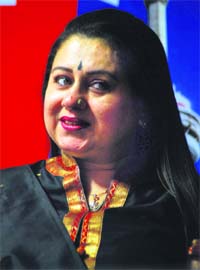 Stitch to suit
Nothing makes a man look more perfect then a fine suit. Among all the trends in male apparels, suits remain evergreen and in that too, the stitched variety is still much-liked by many males.
Punjabi at heart


We are always taught to look ahead in life; thinking too much about the past is not a strong recommendation. Sometimes though, walking in the alleys of the past leaves a smile on the face and a glint in the eye.
Black is beautiful
Contrary to popular perception, men find brunettes more attractive and intelligent than blondes. This inference can be drawn from a new study led by an Indian -origin researcher.
Celeb point
The magic of New Year
I think the concept of New Year celebrations is over- hyped. Make merry the first day and we will make merry the entire year. This is what I used to hear in my childhood days and I continue to believe that till now, ironically, at the same time, I am well aware that it's just another day!
Master Chef
Fruity flavour
As the winter is the season of apples and an apple is important to keep the doctor away, we bring you a dish made of this fruit.
green thumb
Plant it right
A horticulturist is confronted with many a situation while planning. It is easy to plan when the area is large but when it comes to small and narrow land, the planning has to be judicious.
Stars to watch out for
Two and counting
Parineeti Chopra: She made a super splash with her vivacious character in Ladies vs. Ricky Bahl. Her first leading role comes opposite Arjun Kapoor in Ishaqzaade. She is Priyanka Chopra's cousin.
Behind the scenes
Bollywood director duo Abbas-Mustan, who are back with another action-thriller Players, after having made such edge-of-the-seat flicks for almost two decades, say that making thrillers is quite complex but they still are in love with the idea. The formidable duo have been making films in this genre for long and have given hits like Baazigar, Ajnabee, Aitraaz and Race among others.
Zooming on Ranbir
Ranbir Kapoor achieved new heights of perfection in Rockstar. He was so involved in the character that he didn't talk to people for days post the release of the film. Now, he is trying to attain even higher heights of perfection for Barfee. The actor has taken his close-up shots himself. The cinematographer of the film is Ravi K. Chandran.
Up, close and personal with Sunny
After her stint on the fifth season of the reality show Bigg Boss, Indian-Canadian porn star Sunny Leone wants to get back to normal life with her boyfriend Daniel Weber and says he is everything that her ex-fiance Matt Erikson didn't have.
Dhoom can wait...
Aamir Khan is known to focus on one film or project at a time. He is doing exactly that right now and as a result, it will be a while before Dhoom: 3 goes on the floors. A source tells us, 'Aamir is currently focused on Reema Kagti's Talaash. The film is releasing in June. Till then, he will be busy with the post-production work and heavy-duty promotional activities, as is the case with all his films."
Million dollar tweets
Megastar Amitabh Bachchan has surpassed Twitter queen Priyanka Chopra, emerging as the most popular celebrity on the micro-blogging site with 1,850,903 followers. Bachchan, who joined Twitter in 2010, is an avid user of the site and has tweeted 11,108 times till date. The 69-year-old took the number one spot after beating last time winner Priyanka, who now stands second on the list with 1,841,804 followers and 5,693 tweets.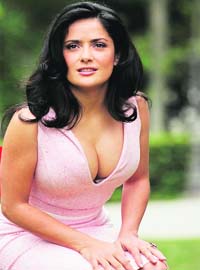 On the field
Model-actress Elizabeth Hurley's cricketer fiance Shane Warne has decided to teach her about the sport because she asks so many questions about it. The 46-year-old's curiosity about the sport has led the ex-Australian international to decide to give her a few training sessions, reported a website.
Leaps and bounds


Actress Salma Hayek is to receive France's highest culture prize - the Legion d'Honneur. The 45-year-old, who is married to Frenchman Henri Francois Pinault, has been named among the 2012 recipients of the accolade by President Nicolas Sarkozy.
Show time
With Bade Achhe Lagte Hain the queen of tellywood and bollywood Ekta Kapoor is surely in the best phase of her career. She is all geared up for another challenge as her show Pavitra Rishta has taken a twenty year leap. Ekta Kapoor speaks her heart out.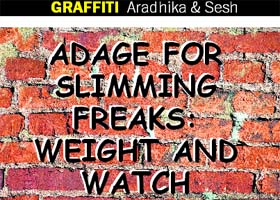 CHATTER BOX