M A I N N E W S
Cabinet gives nod to fill SC, ST job vacancies
Girja Shankar Kaura/TNS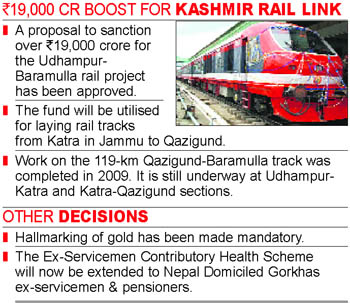 New Delhi, January 4
The Union Cabinet on Wednesday cleared a proposal to fill pending job vacancies in Scheduled Caste and Scheduled Tribe categories in the Central government, a move that will benefit over 50,000 people. The government has already decided to allow 4.5 per cent reservation to the minorities within the OBC quota.
The Cabinet has also given its nod to proposals to make hallmarking of gold mandatory and extend Ex-Servicemen Contributory Health Scheme (ECHS) to Nepal Domiciled Gorkhas ex-servicemen & pensioners.
The decision to fill the pending SC and ST vacancies comes just ahead of elections in five states. Though implementation of this decision will be possible only after the polls are over as the code of conduct is in force, its announcement is apparently aimed at sending a signal to Dalits and tribals in these states.
The decision to make hallmarking of gold mandatory has been taken to protect consumers from unscrupulous jewellers. The hallmarking of gold is a purity certification of the precious metal. The Bureau of Indian Standards (BIS), under the Consumer Affairs Ministry, is the administrative authority of hallmarking. The extension of ECHS to Nepal Domiciled Gorkhas ex-servicemen and pensioners has also been approved. The scheme will be optional for retired Ex-Servicemen NDG Pensioners. Only NDG Ex-servicemen pensioner (paid from Defence Estimates) are eligible for ECHS membership. There are about 1 lakh ex-servicemen and 2.17 lakh dependents domiciled in Nepal who benefit from the Ex-servicemen Contributory Health Scheme, (ECHS). They are entitled for medical treatment under ECHS Scheme at Polyclinics, and ECHS empanelled civil hospitals in India. Emergency treatment in India under existing provisions is also available. Considering the practical difficulties being faced by NDG ESM in taking treatment, the government has decided to provide medical facilities to them in Nepal itself. According to officials the application forms can be collected from the nearest Station HQ of Army, Navy or Air Force in India or from Defence Attache at Kathmandu. Forms can also be downloaded from internet websitewww.indianarmy.nic.in or arecris.htm. War widows, battle causalities and pre-1996 retirees have been exempted from payment of one-time ECHS contribution. For others, contribution will be as applicable in India in Indian Rupees.