M A I N N E W S
Cong list finally out with 114 names
Nominees for Sujanpur, Bhoa & Mansa awaited
Ajay Banerjee/TNS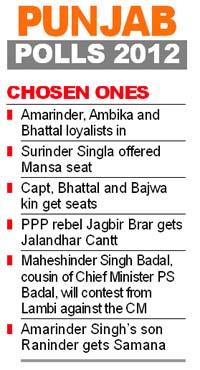 New Delhi, January 5
Despite sharp differences, the Congress went ahead to announce its candidates for the forthcoming Punjab Assembly elections just before midnight tonight. The party high command announced candidates for 114 seats leaving out three seats of Sujanpur, Bhoa and Mansa.
The candidates suggested by Rahul Gandhi have been adjusted. Punjab People's Party rebel Jagbir Brar has been allotted Jalandhar Cantonment.
Congress president Sonia Gandhi reportedly faced an avalanche of letters, requests and memorandums for seats as well as warnings that those refused tickets would rebel against the official candidate. A Union minister from Punjab said some candidates threatened suicide on being denied the party ticket.
After hectic lobbying by former Finance Minister Surinder Singla's well-wishers, he was today offered the Mansa seat though he was keen on Jalandhar Central. Singla belongs to the influential Bania community of the Malwa belt and reports of him being denied ticket yesterday had come a surprise to many within the party and outside.
Former Punjab Congress chief chief Shamsher Singh Dullo was reportedly asked to choose from Raikot, Nabha and Payal, but he did not agree to it.
Senior Congress leader from Punjab Ambika Soni was among others who met Congress president Sonia Gandhi today. All nominees, primarily her loyalists, suggested by her were allotted seats in the Hoshiarpur-Ropar belt.
In the afternoon, some 300 cars bearing Punjab registration numbers were seen parked at the Congress headquarters at Akbar Road here. The offices of Sonia Gandhi and party general secretary Oscar Fernandes had sounded off the media that the list would be out soon. But, finally it was simply pasted at the Congress headquarters around midnight.