M A I N N E W S
Jassi honour killing: Mother, uncle held in Canada after 11 years
Mohit Khanna/TNS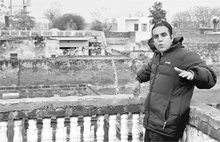 Jassi Sidhuís husband Sukhwinder Singh alias Mithu at his house in Kaunke Kalan near Jagraon. A Tribune photograph
Kaunke Kalan (Jagraon), January 7
Eleven-and-a-half years after Jassi Sidhu, a Canadian girl of Indian origin, was killed and her husband Sukhwinder Mithu left for dead near Narike village in Malerkotla by a group of contract killers allegedly hired by Jassiís Canada-based mother and maternal uncle, the Royal Canadian Mounted Police (RCMP) finally arrested the duo from their house this morning in Maple Ridge, British Columbia.
Jassiís mother Malkiat Kaur and uncle Surjit Singh were allegedly evading arrest and extradition to India all these years. The RCMP has, in a press release, announced that Malkiat Kaur and Surjit Singh were being questioned and would soon be extradited to India.


Murder Most Foul
Dec 1994: Jassi meets Mithu in Jagraon.
Mar 15, 1999: They marry in secret at Baba Bakala gurdwara in Amritsar district.
May 1999: Jassi returns to Canada. Prepares documents for Mithuís migration to Canada, but is exposed in early 2000. Kept in house custody illegally by her parents.
February 2000: Mithu booked for kidnapping and forcible marriage of Jassi.
May 19, 2000: Mithu acquitted after Jassi reaches India and gives a statement in his favour.
June 8, 2000: Contract killers attack them late evening near Narike village in Malerkotla. Jassi dies, Mithu injured.
June-July 2000: Most of the accused arrested. Police books Jassiís mother Malkiat Kaur and uncle Surjit Singh for conspiracy to murder. Extradition proceedings begin.
Mid-2004: Mithu booked for rape of a village girl, arrested, sent to jail.
April 2008: Ludhiana court acquits Mithu of rape charge.
January 2012: RCMP arrests Malkiat Kaur and Surjit Singh Badesha.
Of about 10 alleged contract killers, only three, including former sub-inspector Joginder Singh, Anil Kumar and Ashwani Kumar, are behind bars at present.
ďJustice has finally been done to some extent. I am waiting for the day when Jassiís mother and uncle will be brought to India and punished. I donít know whether I would meet them or not. But I may not like to see such faces. I have always wished for exemplary punishment for Jassiís mother, who ordered her killing,Ē said Mithuís mother.
ďIt was due to immense media pressure that the case remained alive and forced the Canadian police to act. Justice was delayed, but not denied,Ē said Mithu, who did not remarry.
The murder was a rude end to a love story that transcended continents but could not overcome the barriers of caste and society. It was the first international instance of the menace of honour killing prevalent in North India.
DSP Swaran Singh, the investigating officer in the case, said he was elated at the arrest of Malkiat Kaur and Surjit Singh. ďIt was my duty as well as my lifeís purpose to see justice done to Mithu and Jassi. We are eagerly awaiting the extradition of the duo.Ē