M A I N N E W S

Pravasi Bharti Divas


India biggest beneficiary of remittances
Prabhjot Singh/TNS India biggest beneficiary of remittances
Prabhjot Singh/TNS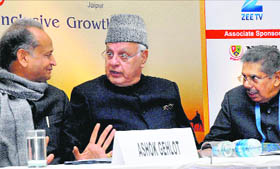 (From left) Rajasthan CM Ashok Gehlot, Union ministers Farooq Abdullah and Vayalar Ravi at the Pravasi Bharati Divas in Jaipur on Saturday. — PTI
Jaipur, January 7
If all major banks, both public sector and private, have put up special stalls here to woo overseas Indians, there is a reason: India has been reported to be the single largest beneficiary of remittances made abroad.
A World Bank report says that while India received US $ 58 billion in overseas remittances during 2010-11, China was second best with US $57 billion. Interestingly, 61 per cent of the remittances made to India went to family welfare while bank deposits accounted for 20 per cent.
Only three per cent of these remittances went as equity investments and contrary to presumptions, only four per cent of this overseas went to real estate.
Because of the strength the US dollar has gained over the past four months, inflow remittances as fixed term deposits in both nationalised and private banks have been shooting up. The banks are invariably offering 9 to 9.40 per cent returns on deposits locked for a year.
"It is one reason that inward remittances have now outpaced repatriation of money," says Sonam Juneja of Axis Bank.
With relaxation in repatriation rules, overseas Indians can now take back money in their earlier non-repatriable - NRO - accounts to a maximum of 1 million subject to clearance certificate from a chartered accountant.
All banks have brought in here their best teams of guest relations to seek fixed deposits and also investments in other attractive banking plans. Interestingly, even the LIC, too, has come out with some new schemes for the benefit of overseas Indians in general and NRIs in particular.
Another noticeable change has been the effort of the Ministry of Overseas Indians on encouraging interface between youngsters of Indian origin with the motherland of their parents and grandparents. Nearly 40 per cent of the total delegates here are below the age of 45 years and a fairly large percentage is of those who are still in their teens.
"We do not want our wards to be identified as "American Born Confused Desis" (ABCD), remarked P. Patel, a US-based businessman, revealing that he has brought with him both his sons, who are in their late teens. "The idea is to apprise them of their rich heritage besides reviving their connectivity with their ancestral homeland."
It is a part of this exercise that former Test cricketer and now MP Mohammed Azharuddin attended a special session on youth connectivity.
It is in this seminar that Preeta Bansal, former senior official in Barack Obama administration, was also a participant.
Ontario's Minister for Government Services, Harinder Takhar, will speak tomorrow in a session on Mahatma Gandhi. Punjab's only consolation is that one of its former bureaucrats, A. Didar Singh, who retired late last year, is now Adviser to the Ministry of Overseas Indians, and overlooking the PBD 2012.
Though there are not many Punjabis here for the three-day Pravasi Bharti Divas conclave that got underway today, those who have turned up here feel little enthused. "There is nothing much for us here," remarked SP Singh, who has come from North America.