Looking for the elusive MR Right
Young girls, bright, beautiful and talented, seemingly have everything going for them. Yet, landing the perfect groom becomes a hurdle race. The 'qualities' that define these achievers are actually putting off eligible bachelors,
writes Aradhika Sharma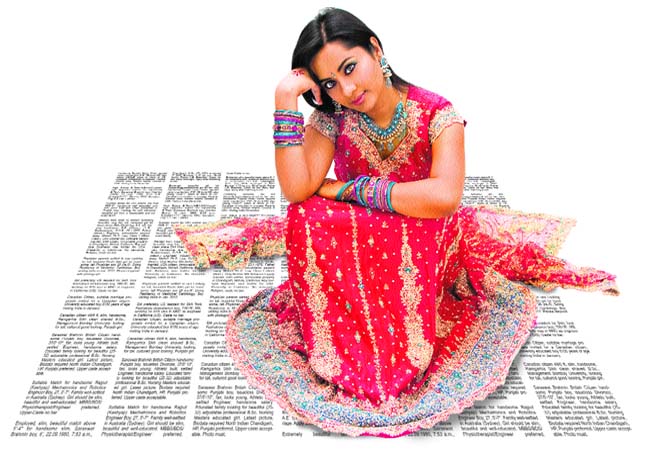 THESE girls are beautiful. In the age group ranging from 25 to 30, they are bright and smart, belong to respectable, well-to-do families, have great jobs, are independent, savvy and responsible. They work in corporate businesses or are trained professionals. They are trendy; tuned in to the world around them and are more than capable of handling difficult situations. Many of them have travelled abroad several times.
You would think that they are already married or have boys falling over themselves to lay claim to these bright young things as their brides, right?
Wrong! Nothing of the sort! Quite to the contrary in fact. These are girls who haven't found the perfect match as yet and though their families are madly looking for Mr Right for their daughters, they haven't been too successful either. Parents look for boys in their own communities to begin with and then through matrimonial advertisements, both in print and online but the success rate in getting in touch with the right bridegroom is not too high. To begin with, the daughters won't say a 'yay' and later, marriageable boys get harder and harder to find, leaving a generation of girls who want to get married, but don't know whom to marry.
As far as this trend goes, we seem to be replicating the American experience, where eligible girls outnumber the available guys. If we judge by the number of accomplished yet unwed girls, it seems as if girls outnumber the boys. Is marriage important and desirable for these savvy girls? Do these young women really want to sacrifice their independence and space and give themselves up to a new life because they desire matrimony? The answer is 'yes'. But, conditions apply!
Shalini's story
The 'age' old issue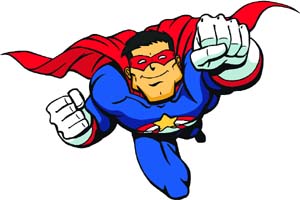 The daughter of an Army officer, pretty as a picture, a real natty dresser, cool and trendy and a funky dancer, Shalini works for a corporate. She leads a successful team and is a senior trainer. At age 29, she's looking for Mr Perfect, though she's aware that she may have to lower her standards a bit to settling for Mr Slightly Imperfect.
The issue is that her Mr Perfect is not "falling from the skies". Also she feels that "guys out there are intimidated by girls who come wrapped up in the formidable package of professional, pretty and smart. They really can't deal with girls who are earning more than them or are smarter than themselves."
There was a guy once who did fit the bill of Mr Perfect for Shalini. The hitch was he was a few months younger than her. Shalini and he had been together for a few years and it seemed as if things could not have been better. There was serious commitment from both sides, the families were well-matched, and the couple was compatible. All was well till his family discovered that Shalini was all of two and a half months elder to their boy. And that was that! The end! Finito.
"The thing is that once a girl gets into a relationship with a guy, she does not get out of the emotional involvement that easily. You could say that a couple of years of her life are gone—longer, if the relationship has lasted for long. By the time sheready to move on, time has passed her by. For guys it's a bit different. For one, I think that at age 24-25, they are commitment phobic, their involvements are not so deep and they move on much more easily. In addition, the parents have lined up a legion of brides-to-be for them and before you know it, all the good guys are taken, while the girls are left nursing their broken hearts." Shalini laughs as she says this. But there is value in her observation.

Akshara's story
Time lines
She's a doctor; works with a hospital; she's small in build but sharp and very attractive. She's conservative enough in dress and disposition to be extremely pleasing to the older generation. One would think that any prospective mother-in-law would be eager to grab her for her son. Akshara humphs..."You have to be kidding," she exclaims. "Parents' expectations are the hardest to beat. There was this family once who came to 'see' me. Of course, they'd done a complete background check, matched the horoscopes and checked the family fortunes and all of that. When they came to see me, the first thing the boy's mother asked me was, 'What time do you return from work?' I answered, 'At 7 pm'. 'Then what time will you begin to cook and what time will we eat?' she quizzed. The boys and the boys' requirements have not changed all that much. At the end of the day, they still want a girl who will cook and clean and run the house for them. I, on the other hand, am not at all sure that I want to do that if it's mandated. I will help in the house, of course, but if the premise is that I will come back after a long day's work in hospital and then I have to cook and clean...no thanks! I'll pass!"

Bhavneet's story
It didn't click!

Bhavneet belongs to a wealthy business family from Ludhiana. A pretty girl, has a Master's degree in business from Singapore, she works as a business developer in a Chandigarh-based software company. When Bhavneet first came to office, it was with the understanding that her parents had 'allowed' her to work while they looked for a boy for her. She, of course, was interested in finding her own space and was deadly against the idea of 'seeing and being shown' to anyone.
Time passed. Suitable boys were paraded before her. Before every such episode, there were tempers and tantrums and lots of trauma about being subjected to such ignominy. Anyhow, a series of unfortunate boys were seen and rejected. Bhavneet's explanation always was:`A0 "We didn't click!" Five years down the line, Bhavneet is more fun and attractive than she ever was- extremely well put together, earning a fair amount of money, delightful to be with, but she's still not married.`A0"I'm scared of the fact that I'd be expected to live in a particular manner, alien to what I'm used to. I think I'm also afraid of repeating the experience I have seen of breaking and bad marriages around me. If anyone can give me a guarantee that I'd have a good marriage, I'd go for it." And who can ever give that assurance?

Devi's story
The need is there but...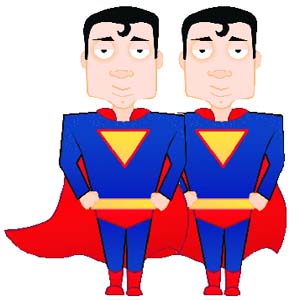 She works with a PR agency as a creative head. This girl from Calcutta is the typical Bengali beauty with big eyes, wide smiling mouth, thick, dark hair.`A0 Her parents are looking for a bhalo Bengali chele for her and have a line of boys waiting her approval every time she visits Calcutta. Up to now, however, no boy has made the cut. "I'm not unaware of the fact that I may have to make compromises," says Devi. "I'm just afraid of making the wrong choice and losing everything that I've studied and worked for. Look, I'm an independent, qualified girl, pretty well off and quite satisfied with the life I have. Why would I throw it all away unless I were convinced that the guy is totally worth it and that I would not have to sacrifice a life I have worked hard to make for myself, in vain?
"Yes, I do feel the need to get married. Friends are great to hang out with but everyone's basic need is to want someone to be with you at all times. I do feel that need as well as the social and peer pressure. Your friends also get married and you find yourself all alone sometimes and that's not a nice feeling.
"My father says that if you want to marry someone, you should not question the boys we show you as much as you do. The more you meet the hapless fellows, the more excuses you find to reject them!" Devi laughs but it's evident that she's ready to get hitched when Mr Right pops into her life. Obviously that's going to happen only if she doesn't put every hopeful guy under the microscope, judge him and reject him because he is not quite what she's looking for.
All the girls unanimously agreed that the fundamental issue was that guys wanted it all. They wanted a beautiful, trendy wife, whom they would be proud to escort to their office parties and introduce to their friends; who contributed to the domestic kitty; who matched up to them intellectually but in addition, a girl who would doll up at the end of the day and have clean house and a hot dinner waiting for them. The clear preference was for a girl who would have a palloo over her head when relatives from the village came to stay and a girl who was ever obedient and a willing slave to their parents. "The girl can be as presentable as anyone may desire, sophisticated and well off but she must be under her husband's control," says Bhavneet. "When a girl is young, say between 18 and 22 years, she has no idea what she wants in her partner. At our age, we have had years of education, training, have explored our capacities and have grown in confidence and so we are picky about who we want to share our lives with," says Sneha.
"I don't think that anyone except the very naïve believes that marriage is forever. We all go into it thinking that if it does not work (though everyone would try their utmost to make it work) then we simply walk out of it. That's why girls don't want to put their entire lives on the line for something that has a shelf life," is Devi's view.
It seems like the girls have marched ahead and are demanding more out of life and matrimony than their traditional roles required. Boys and their parents want the new, improved package but the want the essential 'bridal submission' ingredient too. The demands are changing from one another and the expectations are not really matching. In the process, the girls prefer to wait and at a certain point of their lives, end up wondering if Mr Right is ever going to come along. (Some names have been changed to protect identities)