Inderbir Bolaria (SAD)

What are the major issues facing your constituency?
The first and the foremost problem, I believe, is to relieve the residents from the foul smell that emanates from the Bhaktanwala dump yard. The matter of solid waste management plant is pending with the court. But as an immediate measure a wall (if raised on the periphery), it will not only stop the garbage from spilling over, but would also stop the foul smell to a major extent.
The problem takes a toll on Bhaktanwala grain market especially during monsoons as truckers find it difficult to reach the market. I would have set up the wall, but the polls were announced. As the model code of conduct came into force, the project could not be executed.
Second, the national highway which passes through my constituency needs to be completed.
Third, I know that in the absence of playgrounds, the children or youngsters have no alternative but to play either on the road side.
What is your poll plank?
For youngsters, I propose to build at least two stadiums here. Three-acre land adjoining the newly renovated Raminder Singh Bolaria Memorial Park can be utilised for the purpose.
What are your poll promises?
If given a chance again, I promise to complete the development works underway in my constituency, which included eight-laning of Taranwala Pul, covering of Ganda Nullah and beautification of Sakatri Bagh. Revamping of road like the Tarn Taran road is also a must as it lies in a shabby condition.
What makes you better than other candidates?
I am young, energetic and above all I am born and brought up here. So, I am aware of the pulse of residents and have immense capacity to deliver what I say.
What are your chances of winning?
I am at least 110 per cent sure of winning because residents here are well aware of the fact that I deliver what I promise.
Jasbir Singh Dimpa (Congress)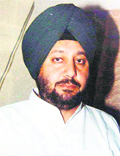 What are the major issues facing your constituency?
The area is under developed. The dump yard is a key issue. Major portion of this constituency is devoid of basic amenities like safe drinking water, sewerage system and roads. Roads are in a very bad shape. In absence of proper disposal system, water gets accumulated on roads. The constituency has no green cover and residents here are compelled to live under unhygienic conditions. The major portion of this constituency is still facing the menace of ganda nullah and open drains.
What is your poll plank?
Corruption is the order of the day. Be it traders, goldsmiths, small industrialist like fan manufacturers, cloth merchants or Bhaktanwala grain market traders, are harassed by the authorities, who are mere puppets of the politicians. I would work on that front by amending administrative policies. I will also implement all welfare schemes, like Indira Awas Yogna, Atta-Dal at subsidised rates or pension schemes.
What are your poll promises?
Development, development and development. And I am bound to do it. My main focus would be to provide residents basic necessities. Besides, safe water and sanitation facilities, the immediate need is to introduce ROBs (railway overbridges) here, get ganda nullah covered and implementation of welfare schemes.
What makes you better than other candidates?
My experience in politics and my capability to deliver will work in my favour. My USP is my easy accessibility. I relate to the people very easily as I always identify myself as just one of them.
What are your chances of winning?
I am 101 per cent sure to outdo anyone who is fighting against me. I am above vendetta politics.
PEOPLE'S VOICE
'Politicians have disappointed us'

The dump yard in our locality is the biggest problem. The foul smell and the smoke emanating due to garbage burning here does not let us breathe. Heaps of garbage remain scattered on the roads. We are still vying to have streets, sewerage, drinking water, streetlights on roads



— Varinder Singh, a shawl block printer

It was a welcome step to cover the Ganda Nullah. But sewerage system is the need of the hour. Despite repeated reminders to the corporation, there has been no drainage system in our area. It is a perfect breeding ground for mosquitoes and poisonous insects. Even our relatives refrain from visiting our place~
— Kashmir Kaur, a housewife

A number of politicians and local ministers have made many promises for proper disposal of sewer water in our area, but nothing has been done. Works that were initiated were just taken up in view of the 2008 bypoll and upcoming Assembly polls. What else Bolaria has done in between? We want a politician who is easily approachable and can understand the ground realities and have the capacity to redress them~
— Subheg Singh, an agriculturist

Traders do not come to our shop because of the foul smell from the dump yard. Garbage spills over to the roads. Streetlights here too need repair. We have been allotted shops by the corporation after charging Rs 40 lakh, but it seems nobody is liable to ensure safe and better conditions here~
— Sharanjit Singh, a commission agent at Bhatkanwala market

It will be for the first time that I will vote. I will go for a candidate who is willing to spare a thought for youngsters. There are no playgrounds and the park that has been developed is not allowed to be used to play cricket. There are huge plots which are lying unutilised. Such places can be identified and can be developed as playgrounds~
— Amarjeet Singh, a student

The approach roads are in a bad shape. In the absence of proper water drainage system, these roads become slippery and result in accidents. Politicians and officials have visited our area several times, but nothing ever happened. There is no streetlight here and it becomes quite risky to move out at night. Chain snatchings and robbery is quite common here, but officials and politicians don't bother~
— Mahinder Singh, a senior citizen

The constituency needs good computer coaching centres. The ones, which are there on the outskirts, charge exorbitant fees. If the MLA wants, it is quite possible



— Deepak Kumar, a student
Youngsters want playgrounds, education centres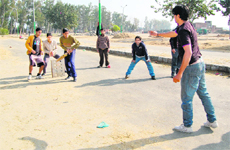 Youngsters play on a road in the absence of a playground in Bhaktanwala area in Amritsar. Tribune photo: vishal kumar
Irrespective of any particular party, youngsters here vie for infrastructure like playgrounds and the markets for hang-outs, where their energies can be channelised in positive direction.
Though, a park has recently been developed in the memory of late Raminder Singh Bolaria, the need is still being felt to have multi-utility stadium here.
Youngsters also sought advanced educational institutions in the constituency.