Sukhbir leads the crorepati club
Ex-CM Bhattal's worth up to Rs 2.9cr
Kanchan Vasdev/TNS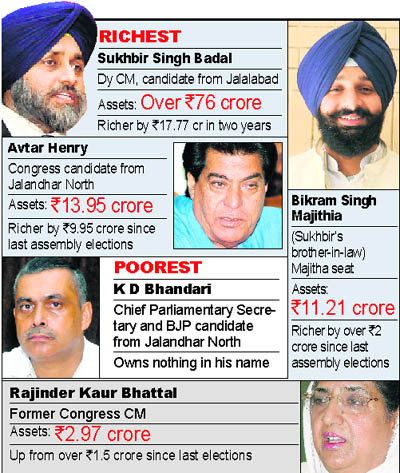 Chandigarh, January 9
With assets worth more than Rs 76 crore, Deputy CM Sukhbir Singh Badal today turned out to be the richest candidate in the fray among those who have filed their nominations till now for the January 30 Assembly elections. Sukhbir filed his papers from the Jalalabad Assembly segment. He has gone richer by Rs 17.77 crore in the past two years. Sukhbir's assets were worth Rs 58.67 crore during 2010 byelections.
According to the affidavit filed by Sukhbir, he does not own a car. He is left with only one tractor this time as compared to the last time when he had two tractors. His movable assets are worth Rs 27,56,57,364 which includes Rs 5 lakh cash besides deposits in banks, shares debentures and jewellery. His immovable assets, including agricultural and non-agricultural property, are worth Rs 48,88,33696.
His wife, Harsimrat Badal, is worth Rs 15.38 crore and does not own any vehicle or immovable property. Former Congress CM Rajinder Kaur is worth Rs 2.97 crore marking an increase of over Rs 1.5 crore compared to last elections.
Sukhbir's brother-in-law, Bikram Singh Majithia, a SAD candidate from Majitha constituency in Amritsar, is a multi-millionaire but does not own a vehicle. He owned a Mahindra Scorpio vehicle worth Rs 7 lakh in the last elections. Majithia's total
assets have gone up by over Rs 2 crore as compared to the last time. This time, he has declared total assets worth Rs 11.21 crore, which include movable assets worth Rs 5.34 crore and immovable assets worth Rs 5.86 crore. His movable assets include Rs 4.35 crore in bonds, jewellery worth Rs 50.7 lakh, bank deposits worth Rs 12.7 lakh, investment in NSS/insurance policy worth Rs 9.76 lakh and Rs 2.25 lakh cash in hand.
His immovable assets include agricultural land worth Rs 5.66 crore and a residential building worth Rs 20 lakh. He, however, also has dues to the tune of Rs 65 lakh.
In 2007 elections, Bikram had declared total assets worth Rs 9.16 crore.
Avtar Henry, a Congress candidate from Jalandhar North proved to be the second richest candidate till now by declaring assets worth Rs 13.95 crore that includes immovable property worth Rs 8.59 crore and movable property worth Rs 5.36 crore.
Sitting MLA from Guruharsahai, Rana Gurmit Singh Sodhi declared assets worth Rs 3.5 crores. He owns a Honda Accord car. A Chevrolet Cruze, valued at Rs 14.30 lakh, is in the name of his spouse. Being an international shooter, Sodhi also owns guns worth Rs 7 lakh.
In the name of immovable assets, Sodhi owns 13-acre land in Mohan Ke in Guruharsahai village besides 4.3 acres in Kotbilla village in Panchkula (Haryana).
BSP candidate from Jalandhar Cantonment, Hardev Kaur Shant is yet another multi-millionaire in the race with an assets of Rs 3.12 crore, more than that of even the former Local Bodies Minister Manoranjan Kalia (Rs 2.59 crore).
Deputy Speaker of Punjab Vidhan Sabha Bhagat Chunni Lal and BJP candidate from Jalandhar is worth Rs 4.5 crore.
Chief Parliamentary Secretary and BJP candidate from Jalandhar North KD Bhandari is the poorest candidate. He owns nothing in his name. An agricultural property at Raowali village in Jalandhar and a 6-marla plot at Preet Nagar on Sodal Road are in the name of his wife Neena Bhandari.
Lal Singh, Congress candidate from Sanaur, is worth Rs 3,99,41,010 and his wife is worth Rs 2,66,49,600.
Health Minister, Satpal Gosain, who is a BJP candidate from Ludhiana Central constituency is worth Rs 3.5 crore. Former DGP PS Gill, who is a SAD candidate from Moga, is worth Rs 3 crore. He owns a Mercedes car worth Rs 49 lakh and his wife has jewellery worth Rs 3 lakh.
(With inputs from Parneet Singh, Anirudh Gupta, Deepkamal Kaur, Shivani Bhakoo and Gagandeep Teja)