M A I N N E W S

Pravasi bharatiya divas day 3


Modi pats himself on the back
Prabhjot Singh
Tribune News Service

Jaipur, January 9
Claiming Gujarat to be a power surplus state with guaranteed 24 hours seven days a week power supply, self sufficient in water, recording 10 to 11 per cent growth in agriculture for the past one decade and exporting milk, vegetables and Pujaris (religious priests) to many countries, Chief Minister Narendra Modi not only had his address repeatedly punctuated with applause from a packed auditorium but also got a standing ovation at the chief ministers' conclave on the third and final day of the 10th Pravasi Bharatiya Divas here today.
This sort of audience response, unusual for politicians in the country today, had a majority of the delegates making a beeline for the subsequent special state session on Gujarat where Narendra Modi continued from where he left in the day.
Describing Gujarat as growth engine of India, he said that his state had gained expertise in converting crises into opportunities and leading the country not only in power generation, milk production, but in empowering and training youth in skills that are needed worldwide.
Gujarat claims
n All 18,000 villages have broadband connectivity since 2009.
n Soon, Gujarat will have the Asia's biggest solar power park.
n Boasting of round-the-clock power supply, the state has 4000 MW of power surplus.
n While water is major source of inter-state disputes, Gujarat has given Narmada water to Rajasthan
n It has the only Forensic Science University of the world

Be India's growth propellers, President urges diaspora
Prabhjot Singh/TNS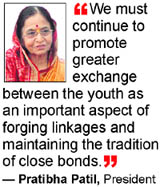 Jaipur, January 9
Stressing need for developing key areas like education, skills and health care, President Prtibha Patil exhorted the overseas Indian community to continue helping India in becoming a global power.
Delivering the valedictory address at the 10th Pravasi Bharatiya Divas celebrations here, she said 27 million strong Indian overseas community was not only large but was becoming increasingly influential.
Complimenting Kamla Persad Bissessar, Prime Minister of Trinidad and Tobago, she said overseas Indians with sheer hard work, dedication and commitment have risen to top positions in their new countries.
Pratibha Patil said in the present century human society was facing the daunting yet inspiring task of forging "sustainability" in all its activities so that while meeting current human needs, the requirements of future generations were also safeguarded. She called upon overseas Indians to play a great role in meeting this major challenge as they had gained knowledge and experiences in academics, science and technology.
While appreciating the need for youth connectivity, the President appreciated the 'Know India Programme' as it brings groups of young overseas Indian youth to India with a view to promote awareness of different facets of life here. "We must continue to promote greater exchange between the youth as an important aspect of forging linkages and maintaining the tradition of close bonds," she said.
She also appreciated the Indian Community Welfare Fund that has been extended from 18 countries to all Indian missions overseas.

Trinidad & Tobago PM among 14 overseas Indians felicitated
Prabhjot Singh/TNS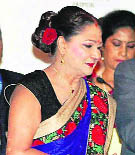 Kamla Persad Bissessar
Jaipur, January 9
Prime Minister of Trinidad and Tobago Kamla Persad Bissessar and chairman of the Indo-Canadian Chamber of Business Satish Thakkar were among the 14 prominent overseas Indians who were felicitated by President Pratibha Patel with Pravasi Bharatiya Samman at the concluding ceremony of the 10th Pravasi Bharatiya Divas here this evening.
Kamla Persad Bissessar (68), whose great grandfathers moved from Kolkata to the Caribbeans early in the 20th century, is the first woman Prime Minister of Trinidad and Tobago. She was also part of the last government headed by Basdeo Panday, another person of Indian origin. Bissessar was the chief guest at the inaugural ceremony of the Pravasi Bharatiya Divas this year.
Among 14 recipients, there were three women. Other than Bissessar, both the remaining recipients are doctors: Khurshed Noshir Ginwala Rustomjee (South Africa) and Kalpalatha Kammamuri Guntupalli (USA). The Indo-Canadian Chamber of Commerce is the oldest and largest Indian diaspora organisation that has more than 1,200 members now. Last year it organised successfully the Pravasi Bharatiya Divas (Canada region) in June. Its president Satish Thakar received the award from the President.
The Pravasi Bharatiya Samman is conferred upon those people of Indian origin who have worked on fostering better relations, coordination and cooperation with their roots back home.
Other recipients include Surendra Kumar Kaushik, who became the youngest professor at Pace University in early 60s.

Many CMs miss date with NRIs
Prabhjot Singh/TNS
Jaipur, January 9
In an endeavour to engage second and third generation overseas Indians, a special initiative of the Union government has come as an opportunity for 38 youth of the 18-27 years age group not only to watch the proceedings of the 10th Pravasi Bharatiya Divas here but also to go around different places in the country.
Drawn from Africa, Asia and North America, this is for the first time that these youngsters have got a chance to visit the motherland of their forefathers.
Getting a cue from the Union government's initiative, the Rajasthan Government has now announced a similar plan offering to bear 90 per cent of air travel besides providing free boarding, lodging and domestic transport to 50 such youth every year.
"We are having a wonderful time. We never realised how big, diverse and beautiful India is," remarked a girl from Fiji who is a part of this 38-member group.
The organisers held special sessions not only on gender sensitisation but also on youth empowerment and engaging new generation overseas Indian youth by offering special programmes here. Karan Billimoria, Mohammed Azharuddin and Preeta Bansal were among those present here.
When one of the young delegates asked the Gujarat Chief Minister Narendra Modi a question about steps being taken to check brain drain from the country, she was told that even after brain drain, the country has enough innovative brains that are taking the country forward and making it an emerging world economic power. "We are sending skilled intellectuals, professionals and technicians all over the world as that is our major resource," commented Modi.