Sheikh Hasina urges India to be liberal in resolving water issues
Bijay Sankar Bora
Tribune News Service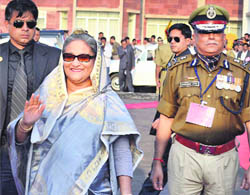 Bangladesh's Prime Minister Sheikh Hasina during her ceremonial welcome in Agartala on Wednesday. — PTI
Agartala, January 11
Bangladesh Prime Minister Sheikh Hasina Wajed today urged the Government of "vast" India to be liberal in the efforts to resolve water issues between the two countries as well as to remove the prevailing bilateral trade imbalance.
Addressing the India-Bangladesh conclave at Pragna Bhawan here, Hasina, who arrived this afternoon to a red carpet welcome, said "Improved bilateral trade relations hold the key to remove poverty, the common problem of both the countries.
"We need peace in the region for trade to flourish across the borders and Bangladesh will not tolerate any act of terror and insurgency in the region."
She added, "The stage has been set for the resolution of many issues between the two countries including those related to demarcation of the border in the wake of my earlier visit to India and the visit of Indian Prime Minister to Bangladesh last year. We expect our vast neighbour India to adopt a liberal approach in resolving the water issues."
She said the trade imbalance between the countries was in favour of India. "Bangladesh imports goods worth about $4.5 billion from India every year compared to Indian import from Bangladesh worth about $521 million.
"There is, of course, need for political cooperation between the two countries for bilateral trade to flourish. Now that India and Bangladesh are enjoying close political ties, industry and business communities from both the countries need to exploit it to their advantage."
Calling upon Indian businessmen to invest more in various sectors like power, telecommunication, textiles, health care etc, Hasina, at the same time, appealed to Bangladesh industry captains to improve their output to make inroads into the vast Indian market at this juncture when the Government of India was opening it up for them.
Earlier, Bangladesh Foreign Minister Dipu Moni, who accompanied Hasina, lauded the recent statement by Indian Home Minister P Chidambaram about Government of India's intention to accord most-favoured-nation status to Bangladesh in trade and commerce.
Union Minister for Human Resource Development Kapil Sibal, who was here to welcome Hasina, said India was keen to help Bangladesh in skill development of its youth.