Getting ready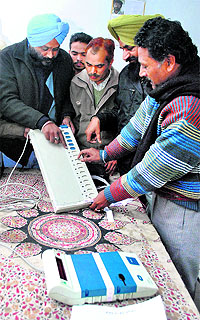 An instructor teaches functioning of the voting machine to poll officials in Patiala on Wednesday. Tribune photo: Rajesh Sachar

Cong rebels to enter poll fray in Majitha, Amritsar (East)
Amritsar, January 11
There seems no end in sight to the Congress' woes in Amritsar with former district Congress (rural) chief Sukhjinder Raj Singh (Lalli) Majithia and Simarpreet Kaur Bhatia today deciding to enter into the poll fray as Independent candidates from Majitha and Amritsar (East) constituencies, respectively.


In Sujanpur, Puri turns rebel


Cong rebel Josan files papers


Gupta files papers as Cong nominee
979 file papers; last day today
Chandigarh, January 11
As many as 979 candidates and covering candidates have filed their nominations for the 117 assembly seats in the state so far. Tomorrow is the last day for filing of papers.
No political rallies this Maghi Mela
Muktsar, January 11
Worried over the expenditure limit, all major political parties, including the SAD and the Congress, have abandoned their plans to hold political conferences at the annual Maghi Mela in Muktsar on January 14.
This Arjun has his eyes on the mark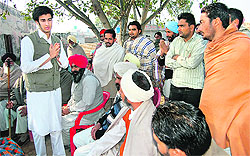 Khirkianwala (Muktsar), January 11
In this dusty village partially devastated by waterlogging, a wave of excitement runs through a crowd as it sees an SUV coming towards it. Young Arjun, People's Party of Punjab chief Manpreet Singh Badal's son, is late by an hour. An SUV stops near the crowd. Arjun is on the driver's seat.

Manpreet Badal's son Arjun Badal campaigns at Khirkian wala village near Muktsar. A Tribune photograph



People here feel discarded
This newly carved out constituency comprises areas earlier falling under the Verka, Jandiala, Amritsar (South) and Amritsar (North) constituencies, all represented by SAD-BJP legislators.
Brahm Mohindra, Rakhra, Kamboj file nomination papers
Patiala, January 11


With the date of filing nominations for the assembly elections to end tomorrow, many heavyweight candidates filed their nominations today. Sitting Congress MLA from Samana Brahm Mohindra filed his nomination from Patiala Rural, SAD-BJP candidate Surjit Singh Rakhra filed his nomination papers from Samana, Congress candidate Hardyal Kamboj filed his nomination papers from Rajpura and SAD-BJP candidate Surjit Singh Kohli filed his nomination papers from Patiala City.
Congress candidate Brahm Mohindra after filing his papers in Patiala. Tribune photo


Poll outcome: Small parties can make a big difference
Chandigarh, January 11
The assembly elections are expected to throw up astounding results as the delimitation exercise has changed demography in 60 of the 117 constituencies.




Voting right 'denied' to defence staff
Chandigarh, January 11
Tens of thousands of serving armed forces and paramilitary personnel as well as members of their families residing in Punjab will be unable exercise their right to franchise despite eligibility to vote being guaranteed by the constitutional provisions and the Supreme Court rulings. The same may also hold true for other states in the poll mode.

Leaders take ballot war to cyber space
Chandigarh, January 11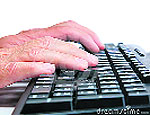 Electioneering for the forthcoming assembly polls has entered the virtual world as well. Be it YouTube, Twitter, Facebook, blogs, mass emailing, candidates are using each of the communication tools to reach out to the voters. The focus has changed from seeking votes to marketing the image of the candidate so that he or she becomes the obvious choice of voters.
Paramilitary forces to man sensitive booths
Chandigarh, January 11
The Chief Election Officerof Tamil Nadu, Praveen Kumar, today asked the Deputy Commissioners of six districts to deploy paramilitary forces rather than the state police to man polling booths.
Bains, Gabria supporters clash
Ludhiana, January 11
Supporters of Simarjit Singh Bains and Hira Singh Gabria, both contestants from the Atam Nagar constituency here, clashed outside the Shimlapuri police station late this evening.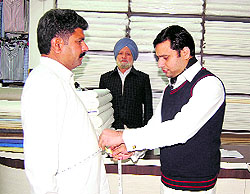 Netas flock here for a cut above the rest
Muktsar, January 11
A father-son duo in this town has made many a politician look elegant. Politicians living in places as far as Chandigarh, Ludhiana, Mohali, Phillaur and Hoshiarpur all flock to their shop to get their clothes styled.



Fashion designer Manpreet at his shop in Muktsar.

Patiala shows the way in gender ratio
Patiala, January 11
The Health and Family Welfare Department, Patiala, claims there has been a remarkable improvement in the gender ratio in 72 villages in the district. However, inquiries by The Tribune reveal that there are several villages in the district where numbers of girls as compared to boys are either half (1000:500) or less than half.
Despite complaints, real estate still attracts overseas Punjabis
Chandigarh, January 11
For majority of overseas Punjabis, who had come to Jaipur to participate in the 2012 Parvasi Bharati Divas conclave, their interest in real estate continues unabated. Despite complaints of land grab, they feel that "safest bet for good returns is real estate." Paul Pornthep SriNarula, a real estate entrepreuner, lecturer and author from Thailand, says that though investments in some parts of India, including Punjab, run more than normal risks, still he was venturing into real estate.
Explain Sukhbir's role in cable business: HC
Chandigarh, January 11
In what could turn out to be an embarrassment for the government just before the assembly elections in Punjab, the Punjab and Haryana High Court has zoomed in on Deputy Chief Minister Sukhbir Singh Badal's interests in the cable operations.


Chandigarh, January 11
Two days after Chief Electoral Officer Kusumjit Sidhu ordered the checking of vehicles of government officials, the Static Surveillance Team today confiscated two vehicles carrying one case each of illicit liquor, belonging to two police officials in Mohali.Two arrested with pistols
Jalandhar, January 11
The Nakodar police today arrested a person and recovered a country-made pistol along with a live cartridge from him.