Bhangra rocks
Bhangra groups from the region share how the dance form is all about expressing happiness
Private albums, Bollywood movies or functions…the rustic and foot-tapping notes of Punjabi music set the pace for any event. So, when it is Punjabi music all the way, can the popular Punjabi dance — bhangra — be far behind?
Celestial energy
Agnes Simon, a French artist living in Chandigarh since the past one-and-a-half-year, talks about seeking inspiration from energies
When the excitement with which an artist paints is read in the same manner, it is pure joy for the former. Such is the story behind Agnes Simon's art —inspired by the positive aspects of life; her art shares its beauty. On display at Alliance Francaies, her work, Energie Dense, Energie De Lumiere showcasing Memories and Shamans, are a blend of different colours, gestures and incidents, which represent the power of the universe and the earth in one canvas.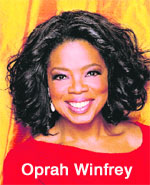 Reunion with Oprah
Abhi-Ash to meet Oprah on her maiden India visit
Talk-show queen Oprah Winfrey is coming to India next week and has expressed desire to meet Bollywood couple Abhishek Bachchan and Aishwarya Rai, whom she hosted on her popular talk show, and the junior B has confirmed the news. "Oprah is coming here to shoot a documentary and she has expressed a desire to meet," the 35-year-old actor said.
Telly tale
Chandigarh lad Angad Hasija is having a dream run on television. Although he misses his hometown, he is grateful to Mumbai as it has brought him name and fame
Angad Hasija is a 'mamma's boy' and wears the tag proudly on his sleeves. In Chandigarh on Wednesday for pre-Lohri celebrations, Angad, good in looks as well as manners, shares his 'happening telly life' with us.
Hair-raising success

'Success usually comes to those who are too busy to be looking for it'. As Munish Bajaj, executive director Tress Lounge, L'Oreal, bags the North India Business and Excellence Award 2012 in New Delhi from Shashi Tharoor, winning the best Unisex Salon Brand in tri-city, we recall the man saying all he was concerned ever was about his work and not the reward. But winning has taken his confidence a notch higher, and he looks forward to doing much more in the growing beauty industry. His story is that of a person who believes in his karma.
Master Chef
Casserole culture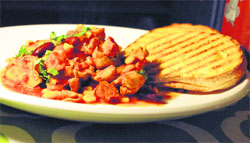 Why am I calling this Casserole culture when casseroles are miles removed from our own culture? Well, to initiate a few new tricks this new year, that's why! Stews and casseroles are hearty, large dishes full of steaming hot food, comforting, flavoursome and nourishing. You can throw in any vegetables you have in hand along with a protein, be it chicken, sausage, paneer or tofu and flavour it with herbs and garlic. Voila! It's a single-pot dinner, ready in a jiffy! You can serve it with a simple warm loaf of garlic bread, buttered dinner rolls or even a herby, fragrant rice! 
Men take more risks
Men are twice more likely than women to take risks at work, so a healthy balance of both genders at work place would be a good idea to make business thrive, a new research has said. The study, conducted by psychologists from the British Psychological Society, surveyed 2,000 men and women working in 20 different fields of work worldwide.

The Race is on...
Players has flopped so all hopes are pinned on Abbas-Mustan's sequel to their last blockbuster, Race. The much-anticipated sequel will have eight stars in it and Sanjay Dutt too will be a part of it. Four pretty girls of all shapes and sizes will add their touches of glamour and sensuality. They are Amisha Patel, Deepika Padukone, Jacqueline Fernandez, and Abbas-Mustan's favourite hottie Bipasha Basu.
Friends again
Anurag Kashyap and Arbaaz Khan had a spat on Twitter last year over Dabangg 2. Arbaaz and Anurag made up at Farhan Akhtar's birthday bash earlier this week.
Loving the reel life
Yeh Rishta Kya Kehlata Hai, a hit show of Star Plus will complete three successful years in January 12. We caught up with Naitik aka Karan Mehra to talk about the show, his character, achievements, and more.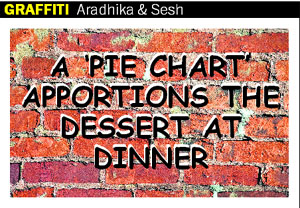 Chatter Box
A true account
Star Plus' most popular prime-time show Diya Aur Baat Hum is the story of Sooraj and Sandhya. The director Sumeet Mittal heard this story from his hometown Ahmedabad in which a Paanipuri-wala was helping his wife for her civil servant exams and from this story, he gave birth to Sooraj and Sandhya's characters.
The year ahead
If your birthday is January 12...
Your finances are one area you may not feel like dealing with in 2012. As long as you don't put them off for too long, it's okay to leave it for another time. Just be sure that you and your partner are on the same page. Get down to doing something interesting before you die of boredom. If you are a journalist, you'll get the chance to work on an incredible scoop.
AstroTurf
ARIES: Your card suggests that extra money is likely to come from somewhere. You will start off in a confident, optimistic mood. Life is not likely to run according to your plan. Personal dreams, hopes and wishes are up for a review.

All in the family
Farah Khan had a very private celebration of her birthday with only very close family members. Jacqueline Fernandez was in tow with Sajid Khan. So, it is obvious that they both are very serious about each other and that she is part of the family.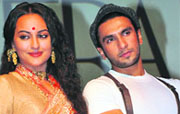 Snow & behold!
The shooting of Lootera was going on well on a set in Dalhousie until it snowed. Sonakshi was stuck in her hotel room and Ranveer is stranded at Jammu airport. So, this cold wave has cost the producer eight lakhs of rupees!
Stars struck: Sonakshi Sinha with Ranveer Singh

Rescue ranger
Shahid Kapoor turned
into a real life hero for former flame PC when she was mobbed while shooting in Aurangabad. So sweet of him!
Super hero: Shahid Kapur


Round the year


Dabboo Ratnani's calendar has been launched and it features the usual A-listers such as Aishwarya Rai Bachchan, Hrithik Roshan, Ranbir Kapoor, Deepika Padukone, etc and Anushka Sharma is the newest entrant. She looks fantastic!
Seasonal show: Dabboo Ratnani
Fashion check list
We take a look at the beauties that have stepped out recently. Take a look at their dresses, clutches, and great shoes!

Comfort zone
Sonal Chauhan: She dresses quite decently. We like the turquoise dress on her paired with beige wedges. She looks very comfortable yet stylish!

OFF TRACK
Neha Dhupia: For a change, the usually stylish actress isn't looking comfortable. The belt is too big for her, the print is blah, and the booties are a bit in-your-face.

Style diva
Shazahn Padamsee: We are so glad that the PYT is finally wearing some colour and her hair and make-up are a tad relaxed. It is a comfortable yet dressy look!

Fashion forever
Sonam Kapoor: Check out those high booties! Sonam completely rocks this edgy Shane and Falguni Peacock dress with the right make-up, hair, and attitude. — HRM