M A I N N E W S

Pakistan crisis deepens


Gilaniís future uncertain as SC issues contempt notice
n PM to appear before court on January 19
n Assembly adopts democracy resolution
Afzal Khan in Islamabad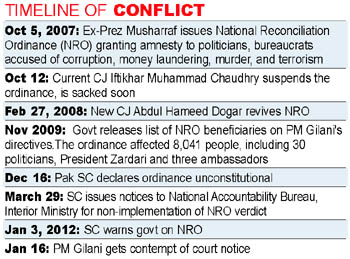 Pakistanís Prime Minister Yousuf Raza Gilaniís continuance in office appeared to be in doubt after the Supreme Court on Monday summoned him to appear in person on January 19 on contempt charges for failure to implement court order on reopening of a money-laundering case against President Asif Ali Zardari in a Swiss court.
The apex courtís order came hours before the Pakistan National Assembly adopted a pro-democracy resolution moved by ruling PPP-led coalition, which could act as a cosmetic booster for the embattled civilian government which is engaged in a tussle with both the powerful army and the influential judiciary.
While issuing the contempt notice, the court asked the 59-year-old Gilani, to appear before it on January 19 to explain why proceedings should not be initiated against him for deliberately disregarding the courtís order.
The court order was issued by a seven-judge bench led by Justice Nasir-ul-Mulk when it took up the case related to its orders for reopening high-profile graft cases against Zardari and over 8,000 others.
Immediately after the courtís order, Gilani held a meeting with Zardari and later met leaders of the ruling PPP-led coalition partners to take stock of the situation arising out of the courtís direction. Zardari was also present at the meeting of alliance partners.
There were unconfirmed reports that Gilani had offered to resign during the meeting, saying that he wanted to take the step if this would strengthen the government and parliament.
Later speaking at Parliament, Gilani said the adoption of the resolution ďunanimously shows that Parliament is supreme, sovereign and democracy is stableĒ.
Gilani also said that he would appear before the Supreme Court on January 19 to face contempt of court notice. Meanwhile on the issue of apex courtís notice, PPP leader Faratullah Babar said, ďWe respect the court and its verdict.Ē He added that an appropriate response would be formulated after consulting legal experts. (With PTI inputs)