Now, ombudsman for higher education institutions
Aditi Tandon
Tribune News Service


To be covered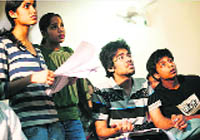 n Central universities, the IITs, IIMs and NITs
n All technical and management institutions recognised by the UGC, AICTE and the National Council for Teacher Education
n Deemed universities recognised by the Centre
n Non-degree granting institutions approved by academic regulators
New Delhi, January 16
Students attending higher education institutions run by the Centre and recognised by academic regulators will now have a platform to register their grievances and seek redress.
The Ministry of Human Resource Development today passed an executive order to mandate all central higher educational institutions like the central universities, the IITs, IIMs and NITs, among others, to appoint an ombudsman to redress grievances of students by the start of the next academic session.
The order will be equally applicable to all technical and management institutions recognised by regulators such as the UGC, the All-India Council for Technical Education (AICTE) and the National Council for Teacher Education. It will also apply to deemed universities recognised by the Centre and the non-degree granting institutions approved by the academic regulators.
The move comes in the wake of persistent resistance that the ministry's ambitious Bill on establishment of educational tribunals met with in the Rajya Sabha where the Bill remains in a limbo.
"We can't keep waiting. We have to move," HRD Minister Kapil Sibal today said, adding that the ombudsman would be responsible for addressing students' grievances related to denial of admission, non-observance of declared merit in admissions, non-observance of applicable regulations for reservation, withholding of documents and non-refund of fees in case of withdrawal of admission, discrimination and matters concerning students in pursuit of studies in the institution.
In matters concerning weaker sections such as SCs, STs, OBCs or minorities, the ombudsman can co-opt a person of eminence of the area from a weaker section to assist him.
The ombudsman will have to deliver his judgment in a month and though his order would not be binding on the institution, the institution can lose recognition from the regulator in case of repeated violations and non-compliance with the orders of the ombudsman.
"Non-compliance can lead to withdrawal of recognition," Sibal explained.
The ombudsman will have to be a person with a judicial or legal background. The institute would have to appoint him from a panel suggested by the affiliating university in case of technical and management institutions and the Central Government in case of deemed universities.
The suggestion of instituting an ombudsman was made by the Parliamentary Standing Committee on HRD when it was looking at the Bill on Prevention of Unfair Practices in Technical and Management Institutions.
"The committee made this suggestion and we are going to implement it. Although the idea was to set up a grievance redress mechanism through the Educational Tribunals Bill, but if the Bill does not come, I am not going to wait," Sibal said.
The proposed ombudsman would not cover grievances related to teachers.