M A I N N E W S
Nashik varsity has a degree for everyone
Shiv Kumar/TNS
Mumbai, January 19
Like various professionals, delivery boys, police personnel and even auto-rickshaw drivers will soon be able to enhance their skills and further their career prospects by acquiring degrees.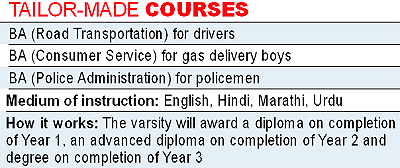 The Nashik-based Yashwantrao Chavan Maharashtra Open University (YCMOU) has tailored courses to meet the needs of various sections of society. "These courses aim to improve the quality of life and enhance career prospects of people who have few opportunities," says vice-chancellor Dr R Krishnakumar.
The university has tied up with organisations including trade associations and unions to reach out to potential students. Recently, YCMOU got together with the Mumbai Rickshawmen's Union to rope in auto-rickshaw drivers for a degree course in road transportation.
"The three-year course will earn auto-drivers a BA in Road Transportation," says Thampi Kurian of the Union. Apart from those who ply auto-rickshaws, drivers of taxis and trucks would also be eligible to enroll in the course.
The open university allows students to study at home instead of attending a regular college. It recently tapped delivery boys who handle LPG cylinders. The varsity tied up with the All India LPG Distributors Federation (AILDF) and Bharat Petroleum for the purpose, according to a university official.
Gas delivery boys in Nashik, Mumbai, Uran and Pune have already begun these courses. At the end of the three-year course, they would be eligible for a BA degree in Consumer Service.
Similarly, 3,200-odd policemen signed up for a BA in Police Administration last year alone, according to the university. According to YCMOU, the courses were offered in English, Hindi, Marathi and Urdu.