THIS ABOVE ALL
Documenting Partition
Khushwant Singh

I left Lahore at the end of the first week of August 1947. I was the last Sikh resident of an elite residential area along the Lawrence Garden to get out in time. I took the night train to Kalka and a taxi to join my family in Kasauli. I had no idea about my future. I decided to drive down to Delhi to find out. I can never forget that 200-mile drive from the Shivaliks to the Capital. There was not a soul to be seen on the road or outside villages that I passed by. No buses, cars, cyclists or pedestrians. It was about 30 miles from Delhi, when I saw a jeep parked right in the middle of the road, about 100 yards away from me. I pulled up to make sure who the men on the jeep were. They were Sikhs so I drove up to their jeep. It was a gang of murderous-looking sardars, each carrying a rifle on his shoulder. "Sab safaaya kar ditta — we've wiped out all of them," said their leader. I understood that he meant they had killed all Muslims around the place. I was chilled to the bone. I drove on to my father's residence in New Delhi. I learnt that Muslims were being hounded out of the Capital and thousands of them were in Purana Qila awaiting trains to take them to Pakistan.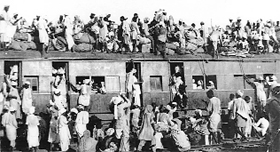 Nayantara Pothen's book records the change that preceded Independence
Two evenings later, my sister-in-law, Harji Malik, and I walked to the Parliament House. A large crowd had already assembled there. Periodically, it burst in cries "Mahatma Gandhi ki jai" and "inqaalab zindabad". Then a hush of silence spread over the throng. The voice of Sucheta Kriplani singing Vande Mataram came over through loudspeakers followed by Nehru's famous 'tryst with destiny' speech.
All this came back to me, as I read New Delhi in Love and War: Glittering Decades by Nayantara Pothen (Penguin/Viking). She has recorded the change that preceded Independence. A new generation of Englishmen, who refused to join "whites only" clubs and wanted to befriend Indians, replaced those that had ruled India. Indians no longer hated the English; instead the English became their favourites above Americans.
Pothen, who has a Ph. D from Sydney University, has done a commendable job gathering relevant material in two decades following Independence. I am not qualified to comment on the latter part of her thesis, as I was living abroad most of those years. Nevertheless, I found her account of those years evocative and highly readable.
Indo-Anglican views of nature
I have been struck by different attitudes taken by Indian and English poets on nature. Indians have largely restricted themselves to describe the onset of the monsoon. After the hot days of May and June and sandstorms, black clouds appear on the horizon. There is lightning and thunder followed by torrential rains. The wind blows with gale force, knocking down trees. People run out to be drenched. Girls have fun on swings. In the woods, peacocks dance with minor variations. This seasonal phase is repeated by Indian poets. They have very little to say about the advent of spring, when flowers come into bloom, besides rejoicing at their sight.
On the other hand, English poets go into great details about floral display in March and April. For them, rain is a penance, while the blue skies and sunshine a blessing. Indian native poetry is celebratory; English is descriptive. Maybe, I've got it all wrong, particularly as the example I am going to quote has nothing to do with rain or sunshine or flowers or peacocks but describes vividly the hour of twilight, as the world is enveloped in blackness of the night.
The lines referred to are from Thomas Gray's (1716-1771) Elegy Written in Country Churchyard. It was in the anthology of poetry for B.A. course in Panjab University. I learnt to recite quite a lot of it by heart. The poem kept haunting me. I also resolved to visit the site where it was composed. And so I did.
On my first Christmas vacation in England, I went to stay in a Quaker hostel in Jordans in Hampshire county. I learnt that the Gray's churchyard was a few minutes drive from there. So one evening I went there. It was a small, decrepit church, surrounded by a graveyard. I sat on a grave-stone, closed my eyes and tried to recreate in my mind what Gray must have seen and heard three centuries ago to compose his immortal elegy. I quote the first verse:
The curfew tolls the knell of parting day,
The lowing herd wind slowly o'er the lea,
The plowman homeward plods his weary way,
And leaves the world to darkness and to me.
Tihar jail
History teacher: "Students: Prithvi Raj Chauhan freed Mohammed Gauri, even after defeating him 17 times. Why didn't he arrest him?"
Student: "Sir, there was no Tihar Jail in Delhi that time."
(Contributed by K. K. Misra, Chandigarh)