Soccer Sorcerer
Baichung Bhutia is a wizard, the likes of whom are born once in a lifetime. M. S. Unnikrishnan recounts the story of this legend, who bid adieu to international football recently
aichung Bhutia was blessed to have got the kind of testimonials when he signed off his international career with a match against FC Bayern Munich, the top German club, at the Jawaharlal Nehru Stadium in New Delhi on January 10. Bayern Munich rarely fly around playing farewell matches, especially since it is a team packed with six World Cup players, and least of all for an Indian, as Indian soccer is an unknown commodity back in Germany.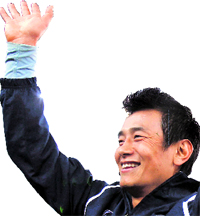 This was confirmed by Bayern captain Philip Lahm, though he had heard about Bhutia when the Indian captain was part of the World XI. Bhutia, nicknamed 'Sikkimese Sniper', had announced his retirement from international soccer six months ago. But he could not resist the offer to don the India jersey for one last time, when Audi, the German auto major, offered to make Bayern's visit to Delhi as his farewell match. The proceeds of the match will go to the earthquake victims of Sikkim.
And when 35-year-old Bhutia, wearing the Indian colours, walked out for one last time the largely filled stadium gave him a standing ovation — befitting a true legend. And the India jersey, produced by Nike for his testimonial game, had a specially-made logo on Bhutia.
It was just as well that Bhutia played his last match against a German club, one of the top five in Europe, as he's`A0a great fan of the German league Bundesliga, which he considers better than the English Premier League. It was always his ambition to meet Bayern stars like Arjen Robben, Bastian Schweinsteiger and Thomas Muller, and playing alongside and against them was a dream-come-true for Bhutia. He now plans to work for the promotion of football through various activities, though he expresses doubt about being called back from retirement. But then, such is his indispensability to Indian soccer.
"It was my last match and I have enjoyed every moment; and have no regrets. The good moments added to the confidence while the downs in life taught me lessons to go that extra pace," says Bhutia.
Bhutia reminisces that his 16 years with the national team was a great learning experience. And he plans to invest his considerable experience and expertise in the game in the I-League Club, Sikkim United, and continue working with his football schools' programme.
Bhutia, no doubt, is one of the best players to have come out of the Indian football stable, though the hype he evoked was manifold. That was largely because he projected the face of modern youth, who could effortlessly converse in English. This image was in stark contrast to the rustic profile of Indian footballers, who hail from a humble background, and often fade away unsung after their active playing years are over.
Bhutia deserved every bit of the accolades that were heaped on him. Having worn the Indian colours 109 times (excluding the farewell match), and scored 43 goals, Bhutia was like no other player India had seen. His No 15 jersey had become an inseparable part of the Indian football folklore. And he was the longest-serving Indian captain ever, as the All-India Football`A0Federation just could not find an effective replacement for him ever since he donned the mantle of captaincy in 2001.
Perhaps, Bhutia would have continued playing for a couple of more years, had recurring injuries not forced him to hang up his boots. He wanted to say adieu after the Asian Football Confederation Championship, as due to a calf injury, he could play only for 15 minutes in the entire tournament. But he rated qualifying for the Asian Cup as the biggest high of his soccer career.
Bhutia is confident of the new generation of players like Sunil Chhetri, Jeje Lalpekhlua, Sushil Kumar etc who are making a mark. He is all praise for his former mates too. He dubs players like I. M. Vijayan and Jo Paul Ancheri as the best, and also having been a link between two generations of Indian players.
The I-League has injected a lot of professionalism in the game in the country, and Bhutia is all praise for former Indian coach Rustam Akramov of Uzbekistan, who gave his (Bhutia's) career a decisive turnaround, as the soccer star had made his India debut under Akramov.
Bhutia was a natural striker and had a very good sense of positioning, which enabled him to score so many goals for India. His technique was excellent, and his headers were very strong as well — all attributes of a good striker. Bhutia had memorable stints with clubs like East Bengal. When the nippy player rose in fame and stature, he found many detractors in the club, which forced him to shift base back home to Sikkim.
Bhutia had dropped his school-leaving examinations to play in the Under-16 national camp, and left home to join East Bengal in Kolkata, when he was still a 'junior'. From learning football at the Tashi Namgyal Academy in Sikkim to his farewell match against Bayern Munich in Delhi, Baichung Bhutia had travelled a long way, literally and figuratively, which the younger generation of players would find very difficult to emulate.
For, Baichung Bhutia was one of a kind, very difficult to replicate.
After Bhutia who?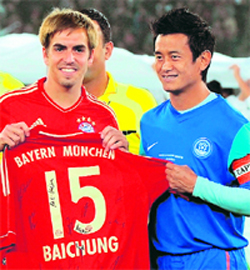 Baichung Bhutia with Bayern captain Philip Lahm (L)
When Baichung Bhutia played his last international match against Bayern Munich of Germany, it was a reality check on Indian football as well. Not only Bhutia and the Indian team, but also the packed stands, could see the chasm between the class of India and other countries. And Bayern were just a club team, though among the top five in Europe.
There was a time, India could rank among the best, when they played in the Olympics and won gold in the Asian Games. Now with Bhutia gone, even qualifying for these prestigious games looks impossible.
At present, India have neither the talent, nor the infrastructure to mould a world-class team. The All-India Football Federation, despite loud promises, has not been able to bring India on a par with with even major Asian soccer powers like Japan, Korea, China, Malaysia etc.
Indian coaches still live in the past, and foreign coaches are unable to adjust to the stifling conditions. Uzbek Rustam Akramov and British coach Bob Houghton tried to introduce modern coaching methods, but many encountered roadblocks, which forced them to quit. Even Bhutia had admitted that if Indian football could reach even this far, these two coaches were responsible for such a makeover.
Bhutia made his international debut under Rustum Akramov as a substitute in the 1995 Nehru Gold Cup in Kolkata, and struck his first international goal against his coach's country! Bhutia's 43 international goals were second only to P. K. Banerjee's all-time tally of 65 from 84 matches.
Bhutia also became the first Indian to play for a European club, English second division club Bury FC. He later played on loan for Malaysia's Perak FC. He helped East Bengal lift the ASEAN Club Championship, scoring a goal in the 3-1 win, against BEC Tero Sasana of Thailand. Under his captaincy, India won the Nehru Cup twice, the AFC Challenge Cup and the LG Cup, to give him a halo no other Indian player has ever adorned.