Dance with apurpose
Many event management companies and TV channels are using the recent trend of flash mobs, which was started by social activists, to create a buzz, writes Radhika Bhirani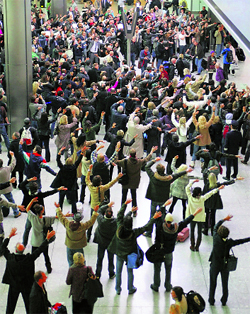 People of varied age groups are using social networking sites to organise flash mobs
If youíre busy shopping at a packed marketplace and someone next to you breaks into a jig, donít fret, just join in! Chances are it may be a flash mob.
It is the latest publicity gimmick that many event management companies, social activists, TV channels and movie production houses are using to create a buzz among the masses.
Flash mobs have been a tried-and-tested technique abroad but in India, it is a new concept. It first started in India in November at Mumbaiís Chhatrapati Shivaji Terminus when close to 200 people began dancing to Bollywood chartbuster "Rang de Basanti".
Since then, the trend has caught on and travelled to various cities like Pune, Chennai, Bangalore, Hyderabad and Kochi as well as the Capital.
"Flash mobs are a great way to reach out to the masses, although they shouldnít be conducted so often that they end up killing the element of surprise," says Ayush Gupta of Cabbageheads, an event management firm which organised the flash mobs at the Capitalís Janpath and Priya complex. Even though the police played spoilsport during their flash mob, there was a purpose behind the activity, says the 20-year-old.
"We organised the flash mob with the sole purpose of opening up the minds around. We wanted to set a trend which screams of being bold enough to try new things! People need to loosen up a bit. Go crazy every once in a while. Thatís what we had in mind when we organised Flash Mob Delhi," added Gupta.
The team of Zee TVís flagship reality show Dance India Dance had also organised ĎDance mobsí to promote the third season of the show. A flash mob of more than 50 people began dancing at the Rajouri Garden market in west Delhi. From college-goers to shopkeepers to residents, many joined in the flash mob and danced to popular Bollywood chartbusters.
"According to our research, Dance India Dance connects with audiences across ages and is driven by the youth target audience. Also, itís that time of the year when a lot of people are out shopping or partying. Hence, it becomes easier for us to reach out to more number of people in one go," Akash Chawla, Zee Marketing Head-National Channels, said.
"The highest recall value of a thing is when it happens by surprise. Besides this, tapping the new media in a big way, the dance mob videos will be uploaded on various social networking sites as well, which will help us to increase our audience base," added Chawla.
According to the dictionary, a flash mob is "a large group of people mobilised by social media to meet in a public place for doing an unusual or entertaining activity of short duration."
People of varied age groups are using online social networking platforms like Facebook and Twitter to organise such surprise dance activities.
At the Delhiís Sarojini Nagar, a group planned a flash mob against sexual harassment and female foeticide, and danced to "Sadda haq".
In Mumbai, southern star Dhanush led a flash mob and danced to his Tamil-English hit "Kolaveri di" to promote the film 3, while in Kochi, some enthusiasts danced to spread the message of peace.
The flash mobs are getting a lot of hits on YouTube. Gupta feels "flash mobs will eventually fizzle out if they continue to happen at the rate they currently are."
"People should think new rather than follow the mob mentality. Thatís whatíll make a difference," he added. ó IANS