Memories of a lifetime of friendship
Padam Rosha pays a tribute to S. N. Mathur, former Inspector-General of Police, Punjab, and Director, Intelligence Bureau, a friend and batchmate, who passed away recently

IN the dying hours of 2011, my friend Shiv Narain Mathur passed away. He was sitting in a sunny nook with his wife Prem and son Siddharth on the afternoon of December 31, sipping soup when he simply left. "Only saints go like this," people said.
Our batchmate, N. Krishnaswamy wrote, "From the day, we got together at Mount Abu 64 years ago, I sensed there was a saintly quality about him, which at once drew me to him and kept me close to him. To my mind, he lived and died a saint." Another batchmate, C. V. Narasimhan, says this noble and gentle soul was "never a mere policeman but a police gentleman all the way."
How do I compress a lifetime of friendship and affection, given so generously, into a thousand words? We both studied at Government College, Lahore, in the pre-Partition era and got our Masters' degree from that unique institution. The Mathurs were an enlightened and close-knit family. They lived in Purani Anarkali, while I was in the hostel across the campus. Shiv acquired a rare insight into the nuances of Urdu poetry from a Muslim scholar, who was a friend of the family and also his tutor. We both took the All-India Services Examination in July, 1947 and were selected for the Punjab cadre of the IPS. We met at Mount Abu on September 14, 1948.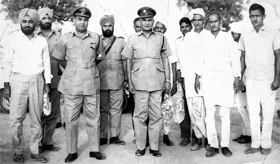 S. N. Mathur (second from left, with his hands at the back) poses with a group of officers. The photograph was taken during the investigation into Partap Singh Kairon's murder at the Rai rest house. Mathur had stationed himself at the Rai Police Station, where he held camp for more than a month
Since then, there was hardly a day when we did not speak to each other and shared our joys, laughter and woes. We had our initiation into the Punjab Police with the traditional ragra at the Police Training School, Phillaur, designed to toughen up the recruits. In this curriculum, the cross-country gallops, with crossed stirrups, was the stuff nightmares are made of. Shiv was an only son, devoted to an extended family. He married Prem, a wonderful life companion, and pillar of strength, in 1950. His parents, a picture of dignity and affection, lived with him throughout.
Shiv and Prem had the responsibility of arranging the marriages of Shiv's three younger sisters, which they did with grace. In 1956, I was posted at Ambala when my mother was afflicted with a tumour of the brain. She had to be taken to Delhi for radiation therapy. For more than a month, my father, brother and sister stayed with Shiv, while my mother was admitted to a hospital close by. Shiv and Prem vacated their bedroom for us and insisted on sending every meal to the hospital.
Shiv spent eight happy years in the IB house on Gupkar Road, Srinagar, where he proudly displayed his patch of tulips and the cherry tree, which intruded into the sitting room on the first floor. In 1959, both Shiv and I, took 10 days' leave and motored through Rajasthan in a leisurely manner, along with our families, to Mount Abu and back. As we were approaching Ajmer Sharif, I remember, Shiv sang an ode in Bhojpuri, "Walliyan ke Sardar, Ajmeri Khwaja."
We tried to meet every year on September 14, to celebrate our joining the police. In 1958, I was the Superintendent Police, anti-corruption, in Delhi, and Shiv was the Assistant Inspector General. I went over to the Police Headquarters, and we debated how to commemorate this auspicious day but our options were severely limited by lack of funds. In the end, we stretched a few rules and borrowed Rs 10 from the accountant. We took the afternoon off and went to Standard restaurant in Connaught Place, where we had the tastiest pastries ever.
I don't think I need to elaborate on the outstanding success Shiv attained in all his assignments. It is all on record. The best testimony is the affection with which he is remembered by the people he served and his colleagues in the department. This is just one example of his dedication: In 1965, he was posted as DIG, Ambala Range, when the Chief Minister, Sardar Partap Singh Kairon, was murdered. Shiv simply moved his headquarters to the Police Station, Rai, and lived and worked from there for quite a few weeks. This was certainly one of the most thorough and intensive investigations carried out by the Punjab Police. The befitting climax came with Ashwini Kumar's blitzkrieg into Nepal and the capture of Sucha Singh. All the four accused for Kairon's murder were eventually convicted and hanged.
In 1975, he was posted as Chief of Police in Punjab and I was in Srinagar when he rang up to say that he had just got his orders for appointment as the Director, IB, and the first person he wanted to tell this wonderful news was me.
The most courageous battle Shiv ever fought was his fight with cancer. In 1992, almost two feet of his large intestines had to be removed. And then followed months and months of radiation and chemotherapy. It was heart-breaking to see Shiv after each gut-wrenching episode of chemotherapy, and how painstakingly he gathered strength but never said a word about giving up. It was inspiring to see how family and friends rallied round him.
But then, life continually renews itself and before I end, I must mention the arrival of Shiv's granddaughter Nandini, Siddharth's daughter, who was a little bundle of joy. So much happiness she brought into Shiv's life! He could spend hours talking about her antics. A couple of months ago when she joined nursery school, you couldn't find a person happier than Shiv. So farewell, my friend, till we meet in the promised land.
Manzar ek bulandi par aur hum bana sakte,
'Arsh' se idhar hota kaash ke makaan apna — Ghalib
The writer is a former Director-General of Police (Security), Jammu and Kashmir