Whizkid Williams
UKís Jay Williams built his first website at five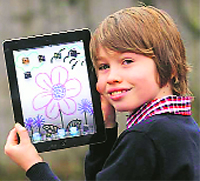 Jay Williams
An eight-year-old brainy boy from the UK, who is fast gaining reputation as the master fix-it for computer-related problems, has given Bill Gates a run for his money despite such a young age. From helping his neighbours get to grips with the internet, to coming to the rescue when the computers crashed at school, Jay Williams, from Erdington, Birmingham, is proving to be a tiny troubleshooter.
The computer wizard was using a computer by the age of two, and was five when he built his first website. Aged just seven, Williams became one of the youngest people ever to complete a globally recognised IT qualification. The Daily Mail quoted Sarah as saying, "As soon as he could sit up, he was up at the computer, and by the time he was two, he could find his way around one.
"He started off playing games on the CBeebies website, but that soon wasnít enough and he wanted to figure out how to turn the computer on, shut it down and do things for himself," Sarah added. She quickly spotted her sonís potential and set about finding a computer club to sign her son up to, but to no avail. It was while doing some research on the internet that mother and son came across a website for the European Computer Driving Licence, a set of seven exams covering word processing, spreadsheets and presentations.
Williams, a pupil at New Oscott School in Sutton Coldfield, tried out some sample questions and it became clear that he had the potential to pass the real thing.
"He did the first exam when he was six, and had done all seven by the time he was seven, so I am so proud of him," she said. ó ANI