Life beyond glory
This Republic Day, Harish Chandra Mehra, India's first bravery award-winning child, recalls the highs and lows of his life, writes Vivek Shukla
Come January, and memories start haunting Harish Chandra Mehra, who became a real-life hero a little more than five decades ago. As children who have won the bravery awards pass through Rajpath during the Republic Day parade, 68-year-old Mehra, who won the first bravery award, will be watching them on TV in a sombre mood. On October 2, 1957, 14-year-old Harish Chandra Mehra saved the lives of Pandit Jawaharlal Nehru and other dignitaries at the Capital's Ram Lila ground.


Harish Chandra Mehra
Sitting in his dingy house 'Katra Neel' in Chandni Chowk, Mehra recalls the incident, "Pandit Nehru, Indira Gandhi and many other dignitaries were watching Ram Lila function at the Ram Lila Ground in Delhi. I was on duty as a scout in the shamiana where all VIPs were sitting. It was around 5.30 pm when suddenly a fire broke out in that shamiana after one of the fireworks fell on it. I immediately started climbing the 20-foot-high pole in the shamiana. Within five minutes, I cut off the burning cloth with my scouts' knife. All those who were sitting under the shamiana watched this daring act."
Mehra's hands were severely burnt in the act and he was taken for treatment to Irwin Hospital, now Lok Nayak Jai Prakash Narayan Hospital (LNJP). Jagjivan Ram, the, then, Union Railway Minister, and many others came to see him there. After recovering, he rejoined his school, Girdharilal School, where he was presented with a certificate for bravery.
He recalls, "One day, Principal Tej Bhan Sethi came to our class and informed me that I had been nominated for a special National Gallantry Award, which was being instituted by the Prime Minister. I got the award from Pandit Nehru at Teen Murti Bhavan in 1958. My parents accompanied me. Pandit Nehru said to them, "Your son has saved my life and he will certainly become a great man some day." Indira Gandhi was also present there. Pandit Nehru remained with us for around 15 minutes. My parents were so happy after this that they distributed sweets in our locality."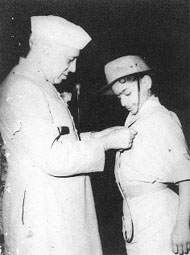 Mehra being awarded a special National Gallantry Award by Pandit Jawaharlal Nehru
"My father Rajinder Nath Mehra and mother Laxmi Devi, who belonged to a very humble background, were delighted. Never in their dreams had they imagined that they would be praised by Pandit Nehru", Mehra recalls.
After the award ceremony, many newspapers published Mehra's profile and interviews. The Directorate of Advertising and Visual Publicity made a documentary on his daredevil act and it was screened at cinema halls across the country. The owner of Novelty Cinema, near his house, enabled free entry for those who wanted to watch the film. The All-India Radio invited him for a 10-minute talk.
Recalling days of celebrity status, he says, "Some senior officials came to my house and told my parents that I had been nominated for a special gallantry award for my act of bravery. Indira Gandhi, who was then Vice-President of the Indian Council for Child Welfare, was also present at the award ceremony."
On February 4, 1958, at a special programme, Mehra was presented the Gallantry Award by India's first Prime Minister. For the first time, on January 26, 1959, a civilian boy of barely 14 took part in the Republic Day parade. It was after this award that the government decided to annually continue the National Gallantry Award for children on the Republic Day.
Today, after more than five decades, Mehra is a sad man. Following his tryst with 'celebrity status', he is a dejected man today.
Five years after the incident, he had to quit studies due to financial constraints. He took up a job as lower division clerk in the Union Public Service Commission, Dholpur House office. Three years later, he was transferred to the Controller of Publications without any incentive or promotion. He retired in 2004 as an upper division clerk.
"Despite promises by successive Prime Ministers, no one bothered to help me. I can't understand why is it that when even policemen get a promotion for saving the lives of people, which in any case, is their duty, couldn't I be given any promotion for saving the life of the first Prime Minister of the country?" says Mehra.
Every year, as he sits with his three sons and four grandchildren to watch the Republic Day parade on TV, there is little that can cheer this braveheart babu. If life is a stage, then for Mehra, the drama ended at 14.
"The award made me think that destiny had a lot in store for me," he admits, "but my life has been very ordinary," Mehra concludes with moist eyes.