Dogs' day out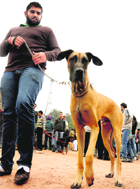 This one goes out to all the pet lovers and their pets. While some of us desperately want to be indoors eating hot pasta and sipping cappuccino on a cold Sunday afternoon, an appreciable number of people gather at leisure valley sector-10 to admire all kinds of canines at the Dog Show organised by Chandigarh Kennel Club. And now for the small, big, tall, hound like dogs sitting 'easy' next to their masters. As a dog lover you don't like the sight of the tiny puppies behind cages (not to mention they are looked after well), but all you can do is stop and give a nice pat to them, as they cuddle up under the sheets. The second day of Chandigarh Dog Show 2012 saw the breed, Labrador exceed over the others. White and black Labrador pups were all over the place.
The game is on...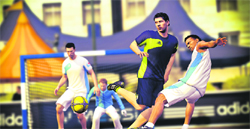 How about a bid to escape avalanches, rock slides and freezing cold temperatures as you take mother nature head-on in the hope of surviving some of the most dangerous descents on earth? Many of us might leap up at the opportunity to conquer the treacherous mountains if worldly obligations (read job, family) were taken care of.
TV starts talking
Remote controls could soon become outdated with the advent of new generation gesture and voice-controlled televisions, tech observers say. The new technology allows viewers to control a new line of TV sets simply by speaking or gesturing at them, eliminating the need for clunky pointing devices and opening up a range of new ways people can use and interact with their televisions.
Majestic malts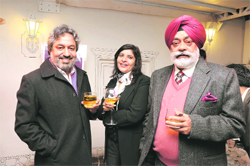 One of the few reasons why the crème de la crème of Chandigarh gather together is to feel the comfort in the lap of anything luxurious. This time it was a tasting session of the most exotic Single Malts. Brought in city by the UB Group, the exclusive Single Malt Club of Chandigarh gathered at the Smoke House Grill to welcome their latest muse with pure bliss. Apart from the drinks, the evening was laced with as much information to convert even a non follower into an ardent fan.
Presentation concerns
Researchers have confirmed what many people have long suspected -- mouthwatering images of food in advertisements is fuelling obesity epidemic. A team at the Max Planck Institute of Psychiatry has found that it only takes a picture of tempting food to cause a change in the level of ghrelin hormone which control people's appetite and this makes many hungry.
Stress buster
Nurture your skin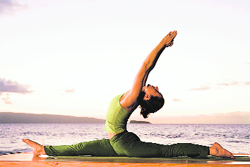 We have winter in full swing, cold air whipping our cheeks and our layers of woollens always increasing. Yet once the sun is up there we remove these layers and soak in the warmth and the vitamin D. Stress builds up when we have to change our everyday habits and adjust with all kinds of climatic changes. Here in India where we know we live in different climatic seasons in different parts of our country, our bodies and most specially our skin goes through a specially stressful period.
Cupid calling
Maybe you can answer this one, one thing doesn't go out of stock ever. Don't invest your mind in this, let your heart speak. In that case, it is simple- Love. So, if this happens to be something that is never out of stock, you would definitely have hundred ways to make sure it only grows.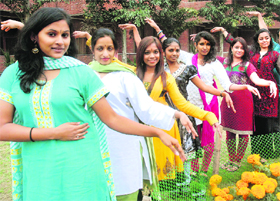 Art unites

: Some 15 artistes from Malaysia, Singapore and Germany along with their Indian counterparts in Chandigarh to participate in International Workshop on Folk Dances organised by Chandigarh Institute of Performing Arts Photo: S Chandan
Master Chef
Soup-er soul warmer
Winter's onslaught is on, full pelt and mufflers, blowers and log fires are our 'hot' favourites! There' no better soul warmer than curling up with a bowl of soup on a cold winter evening. The earliest evidence of our ancestors eating soup? About 6000 BC! And guess what it was made from? Hippopotamus!
Just a reel role
George Clooney has revealed that he couldn't relate to his character in The Descendants but doesn't think that impacted on his performance. The 50-year-old actor plays Matt King, a wealthy man who sets out with his two daughters to find the lover of his ailing wife in the drama and though he had little in common with the character, he doesn't think that is important.
Star track
Ash is loving motherhood
Bagging the best
New inklings
Keen project for Bips
Separation blues
Starry pastimes
Recreating Nerds
Julia and Alec to star in Normal Heart
chatter box
Second time lucky
Return of the disco dancer
Shot went wrong