M A I N N E W S
Mumbai ATS nets two 13/7 bombers
Shiv Kumar/TNS
Mumbai, January 23
Amid allegations of a turf war between investigating agencies from Mumbai and Delhi over the probe into the triple bomb blasts that rocked the country's financial capital in July last year, the Anti-Terror Squad (ATS) here today announced that it has solved the case.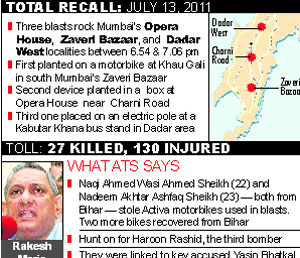 Rakesh Maria, who heads the ATS of the Mumbai police, said his men had solved the case following the arrest of two persons.
Maria told reporters that these men had planted bombs at two of the three places in the city. Those arrested have been identified as Naqi Ahmed Wasi Ahmed Sheikh (22) and Nadeem Akhtar Ashfaq Sheikh (23). The duo hails from Darbhanga in Bihar.
"The two stole the Activa scooters used in the blasts. Two more bikes were recovered from Bihar," Maria said, adding that the police was on the lookout for a third person, Haroon Rashid, who is said to have planted the third bomb.
The Mumbai ATS chief said the three men were linked to Yasin Bhatkal, the main accused in the case. According to Maria, Bhatkal had set up a terrorist module of the Indian Mujahideen in Bihar's Darbhanga district and the three bombers were recruited by him.
Maria said teams of investigators had spread out to 18 states across the country to nab the bombers.
He added that investigators from Mumbai worked with Maharashtra's Criminal Investigation Department, National Investigation Agency apart from police departments in other states. The probe involved painstaking scrutiny of video-footage from 180 CCTV cameras which resulted in the bombers being identified.
Maria said 40 officers and 113 men from the Mumbai police department were on the job. Revealing details of the plot, Maria said Bhatkal was the mastermind and he gave Rs 1.5 lakh to Naqi. The explosives were handed to Naqi by Nadeem in Delhi. Naqi also got accommodation for Bhatkal at the Habib Building in Mumbai's Byculla area and helped him with logistical support.
Investigators were on the lookout for two more men who are believed to be close associates of Bhatkal, Maria said.
The police officer admitted that there was competition between investigators from Mumbai and Delhi to solve the case. "The person, who is heading the Delhi Special Cell, is my batch-mate. So, there is competition. That is how teams work.... please don't waste time saying that there is rivalry," Maria said.
The person who is heading the Delhi Special Cell is my batchmate. So, there is competition. That's how teams work.... — Rakesh Maria, Mumbai ATS chief