M A I N N E W S
Gehlot may nix Rushdie's video link plan
n Session scheduled for 3.45 pm today
n 5 plaints against 4 authors, 3 organisers
Jaipur, January 23
The row over Salman Rushdie deepened today with five complaints being filed against the four authors who read out passages from his banned "Satanic Verses" at the Literature Festival and its organisers, as suspense grew whether his video address will take place tomorrow.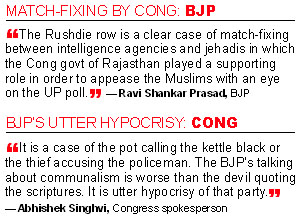 As the controversy over Rushdie continued to dog the festival for the fourth day, a festival organiser Sanjoy K Roy said the video address would go ahead as scheduled at 3.45 pm tomorrow. He said some clarifications sought by the police to their letter have been given in a second communication.
He claimed that organisers have not been told by the police that permission would be required for the video link.
A government official said tonight that the police has sought some details from the organisers relating to Rushdie's video conferencing and no decision was taken from the government's side in this matter so far. He said the organisers would have to take permission.
The four complaints before local courts in Jaipur and one in Ajmer, all in Rajasthan, sought directions to the police to lodge FIRs against the persons named and to probe the matter.
Those named in the complaints were authors Hari Kunzru, Amitava Kumar, Jeet Thayil and Ruchir Joshi and the three organisers - Namita Gokhale, William Dalrymple and Sanjoy Roy.
Abdul Latif in his capacity as secretary of All-India Milli Council and Muslim Mahasabha are among those who filed the complaints, one of them which is likely come up in court tomorrow. The complaint in Ajmer was lodged by Muzaffar Bharti. — PTI

A day of cultural confluence
Vandana Shukla/TNS
Jaipur, January 23
Global voices of exile, political oppression and displacement echoed through Day 4 of the Jaipur Literature Festival.
From Pakistan, Fatima Bhutto and Ayesha Jalal, Palestenian author Raja Shehadeh, Thant Myint U from Burma and Hanan-al Shaykh from Egypt shared their experiences of exile and those of creating works of writing out of such experiences.
Iftikhar Gilani, the Kashmiri journalist-writer who was arrested under the Official Secrets Act and later released, lent a lighter vein to political oppression. "All writers should get arrested once. A jail is a goldmine of writing material, which you can't get even by spending billions," he said. On a serious note, the writer said these literary documentations help take nations and states to self-criticism and self-analysis once in a while.
Fatima Bhutto, columnist and author of "Songs of Blood and Sword", said her father was so often in and out of jail, that it made her believe that arrest was a form of protest.
Hanan said though her exile was not forced but a chosen one, yet, she had to go through a tough time. She didn't feel at home in the sectarian society of Lebanon, and so writing became a form of protest for her. She attempted to explain the feeling of exile, "Once you feel exiled from your land, you feel like an outsider everywhere, forever".
Thant Myint-U, a historian and former fellow at the Trinity college, known for "Where China Meets India: Burma and the new crossroads of Asia" shared his experience of the failed revolution of Burma of the 1980s. He said "only intellectuals can give right direction to a movement, else, it turns into anarchy. And writers are the best recorders of history, unlike human-rights reports or legal documents, a fictional account by a writer of historical upheavals is more engaging and interesting and it helps people of coming generations to get a feel of their history."
Fortunately, technology has helped many exiled writers to create blogs and websites, away from home and still retain a position to influence people's mind back home, as was done by several Burmese writers under the junta rule. The session "Holy Wars" had academic and author Ayesha Jalal in conversation with William Dalrymple, hence it remained more of an academic exercise. Beginning with the etymology and origins of the term Holy War (Jihad) in Islamic scholarship, Jalal described Jihad as "one of the most complex and elusive terms" in the Islamic lexicon, saying, it is a highly relevant concept today, but, when it was coined the word "Jihad" meant "to strive, to struggle, to endeavour in a worthy cause" and is juxtaposed in the Koran to the word used for fighting or armed warfare.
If political struggles and oppressions provide explosive material to writers, the political struggles based on "misnomers of identity" inspired art critic Ranjit Hoskote and novelist Illija Trojanow to spend 10 years of research, tracing cultural streams and their hybridisations to come up with an interesting fictional account in a novel titled "Confluences" which finds meeting points in cultures rather than their diversities.