Destination B-Town
Chris Higgins, vice-president, marketing and admission for International School of Film and Media, says Bollywood is set to expand by leaps and bounds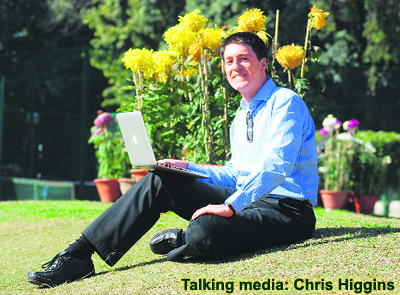 The Hindi film industry is doing a good job when it comes to giving a different kind of cinema, launching new faces, giving hit numbers (8 out of 10 are raunchy though. Chikni Chameli is the latest addition); moving beyond regular scripts. This is till we meet Chris Higgins, vice-president, marketing and admission for International School of Film and Media (ISFM), in Chandigarh, who makes us look at the entertainment industry in a different light.
On a classical note
As a student in any of the top-rated colleges of Chandigarh today, the trend is mostly to huddle up and gossip, indulge in the department politics or to find the best looking thing and start the date trap. There are only a handful of youngsters who flip the coin and do something that promotes our rich culture and classical music. SPIC MACAY is one such organisation and these youngsters are taking out time from their busy schedules to be a part of the movement.




SPIC MACAY, a voluntary movement which began 35 years ago, is working hard to live up to its mission. We try to find out whether youth of the Chandigarh relate to it …

The real show
After reality show Big Boss, actor Dolly Bindra is set to enter the real world of politics
No matter how much we lambast the very 'existence' of reality shows; we cannot deny that we look forward to the artificial 'spice' element they bring into our lives! And not to forget how they make celebrities out of common names. Dolly Bindra, a contestant of one such reality show, Bigg Boss Season 4, is a name that pops up each time we talk about the 'melodramatic and loud' element of reality shows! But this television and film actor has more to herself than a thunderous laughter, an in-your-face attitude and a reality show.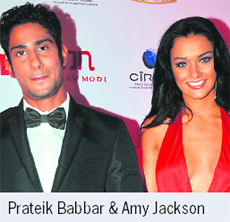 Amy and I? Keep guessing: Prateik
Actor Prateik refuses to divulge whether rumours that he is dating his Ek tha Deewana co-star Amy Jackson are true or not. "Whether it is true or false, I think it is for me and Amy to know and for the whole world to keep guessing," the 25-year-old said at a promotional shoot of the Gautham Menon-directed film, releasing on February 17. Prateik and British model Amy are being spotted together a lot, thanks to the movie's promotion, adding fuel to the fire about their relationship status. However, the only subject Prateik preferred to talk about was his character in the film.
Astro turf
ARIES: Your card gives you a new vision but overindulgence will lead to trouble. Be attentive toward the ones you love. If you are thinking about dieting, join a gym. Focus on fitness and well-being.
The year ahead
If your birthday is January 24...
On your birthday think about your past, so take out some photo albums. These images will remind you of people and places you had entirely forgotten. You might even be inspired to return to a hobby you abandoned long time back. This is your life, and you have every right to spend your free time in the way it pleases you most. Things are good and getting better in 2012. Be willing to sacrifice your pride or take a risk in order to escape unhealthy circumstances. You may not see an immediate way out and may claim that your hands are tied in order to avoid accountability, but absolving yourself of responsibility will leave you trapped or isolated. Until you put your heart in it and assert your independence, you could remain burdened by your own unrealistic expectations and fear.
Chatter box
On the right track
They say those who wish to sing will always find a song. And guess ACP Pradyuman and his team have found one for themselves. The team of cops, who is known for their stern characters on screen, recently shed their hard on screen images and donned the brand new avatar. For the first time ever, CID team comprising ACP Pradyuman, Inspector Daya and Inspector Abhijeet sang a song, which is going to be part of one of the episodes of the longest running crime thriller, this weekend.
Life on a roll
Talented and beautiful television actor Aarti Singh needs no introduction. She is comic actor Krushna Abhishek's sister and Sasural Genda Phool fame Ragini Khanna's cousin. She is currently playing the character of Seema Chopra in Ekta Kapoor's much-appreciated show Parichay on Colors. Having earlier played roles in Grihasti, Maayka and Thoda Hai Thode Ki Zaroorat Hai, she is today being recognised as an actor with substance. Aarti talks about the show, her career and take on playing Seema Chopra.
Par Excellence
Pulling force
The golf swing is predominantly a 'pulling force' which is created by the left side of the body (for right handed golfers). Scientifically we could have a 'pulling' or a 'pushing' force. A pulling action would be from the left side of the body or the lever which creates the force being ahead of the ball.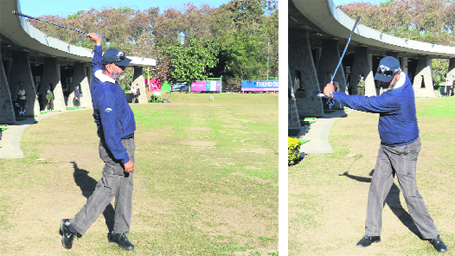 Musical Basant
Music lovers from Chandigarh are in for a treat of Hindustani classical, courtesy the Chandigarh Sangeet Natak Akademi's much-awaited, two-day festival Aai Basant Bahar- 2012 to be held at the Tagore Theatre on January 27-28 from 6:30 pm onwards. Here is a brief look at the itinerary.
Fashion fundas
Ethnic flavour
Niket Mishra of Niket and Jainee fashion designer duo does a fashion forecast for the coming season. He also talks about what you should take out of your wardrobe.
What's in: This winter, stick to traditional outfits while attending parties. Anarkalis and silk sarees will make a great style statement. In summer, prefer sheer fabrics like chiffons and nets. Skirts without flair are back in fashion. Even with gowns, pick the A-line shape. Thread and dori work is what you should get done on the fabrics. Also, fusion will be the flavour of the season.
Kashmir on a platter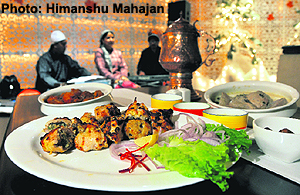 A snowy ambience with dotted balls of cotton and lilting regional music in the background greet you as you step into Punj Sitare, Park Plaza which is holding a Kashmiri food festival. This scenic part of the country is known for its flavoursome cuisine. Wazwan—the traditional Kashmiri cooking is steeped in history with its roots going back to the Tuglak dynasty when Timur invaded India. So, giving us the Iranian touch wazas (as Kashmiri chefs are called) Rayaz Ahmad and Tariq Ahmad have specially come to the city to pamper the Punjabi palate and warm them up with traditional Kashmiri dishes like tabakh maaz and rista aab gosh, ghustaba, to mention a few.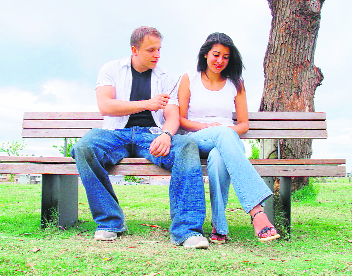 HEART talk
Try, test and decide
My boyfriend and me are in our early twenties and we've have been together for two years now. Recently we moved in together for a live-in relationship. Initially, everything was fun but sadly I've begun to see a different side of his character. He doesn't trust me at all and keeps calling me constantly throughout the day. I don't know what to do.
Harpreet Kaur, Chandigarh
The best part of living together is that it brings an openness to a relationship. Give your relationship sometime and see if more problems occur. And the best part is that you are not married, so you can always move out.
Won't mess up my life again: Kelly Osbourne
TV star Kelly Osbourne is furious over reports that she is back to her partying ways and says she has worked too hard to mess her life again. It appeared that the 27-year-old Fashion Police star had allegedly purchased marijuana-laced cookies at a bar. But Osbourne took to her Twitter to set the record straight, reported a publication online.
I got the money, honey!
Actress Kristen Dunst says she is happy that she doesn't have to rely on a man for financial security
She gained success at the age of 12 and actress Kristen Dunst is happy that she doesn't have to rely on a man for financial security. The 29-year-old, who gained recognition with her role Claudia in Interview with the Vampire, has given hits like Eternal Sunshine of the Spotless Mind and Spider-Man trilogy, reported a publication.
Girls' night out
Singer-turned-designer Jessica Simpson may be heavily pregnant but this hasn't stopped her from going on a night out. The 31-year-old was spotted in a glamorous black and grey dress and black high heels and she looked seemingly happy as she went for dinner in Beverly with a female friend, reported a publication. It is unclear when the baby will arrive but rumours suggest that she is expecting the child with fiancé Eric Johnson in the spring.
Hair and there
Actress Jessica Alba says her three-year-old daughter, Honor Marie, loves wearing wigs. The 30-year-old said that Honor, her eldest girl with husband Cash Warren, has an insane sense of style but loves letting the youngster dress up because it makes her happy, reported a publication online.
Third in a row...
Hollywood actress Jennifer Garner, who is pregnant with her third child with Ben Affleck, says she has left it to her daughters to choose the name for their unborn child. However, Garner, 39, also said that her daughters Violet, 6, and Seraphina, 3, are coming up with funny names for their third sibling, reported a publication.
Look who's talking
Kareena Kapoor, who not so long ago had made the tag `size zero' fashionable, says she is a foodie, she does not starve at all. At a function to launch a book by dietician Rujuta Divekar, Kareena said that being a Punjabi, she loves to eat all sorts of paranthas.
Rumour has it…
Supermodel Heidi Klum is reportedly set to seperate from her singer husband after six years of marriage
Supermodel Heidi Klum is reportedly set to divorce her soul singer husband Seal after six years of marriage. The 38-year-old German beauty married Seal in 2005 and they have three children together, daughter Lou and sons Henry and Johan, reported a website online. The Kiss From a Rose hit maker Seal also adopted Klum's eldest daughter Leni from a previous relationship.