M A I N N E W S
Home Secy admits 13/7 goof-up, but says no turf war
Tribune News Service
New Delhi, January 24
Union Home Secretary RK Singh today sought to put a lid on the curious case of Naquee Ahmed, used and abandoned in Mumbai by the Intelligence Bureau and the Delhi Police, and arrested by the Anti-Terror Squad of the Mumbai Police.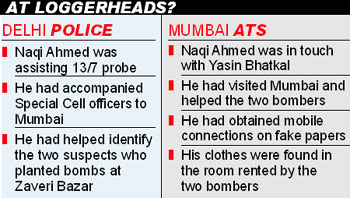 The Home Secretary admitted that Naquee Ahmed (22) was assisting the IB and Special Cell of the Delhi Police in nabbing the prime suspects who had planted bombs at Zaveri Bazar and the Opera House in Mumbai last year killing 27 persons and injuring over 100. He also admitted "a lack of coordination" among the different agencies but played down the rift by adding that just because Naqi Ahmed was assisting the police, it did not mean that he was necessarily innocent.
The Home Secretary expressed his 'happiness' at the ATS cracking the case, and pointed out that the evidence gathered by the ATS would be subjected to judicial scrutiny. But a further twist was provided in the national capital, where family members of Naqi Ahmed claimed that the two officers of Delhi Police, who had accompanied Naqi Ahmed to Mumbai, had assured them that they would testify in court about his innocence.
He, however, indicated that using one of the terrorists to track others is an established technique. He had been briefed about the case by both the IB and Delhi Police here. And he had also had a long discussion with the ATS chief, he said.
Singh said that in order to improve coordination between different agencies, a National Counter Terrorism Centre ( NCTC) was being set up. The Ministry would also convene a meeting of all the DGPs to finalise a Standard Operating Procedure while investigating terror strikes.
The ATS and the Delhi Police have accused each other of derailing the investigation. The ATS chief, Rakesh Maria, said in Mumbai that disclosure by Delhi Police on November 30 that they had busted a module of Indian Mujahideen, prompted the two bombers of Zaveri Bazar to abandon their rented accommodation at Byculla and disappear.
Delhi Police on the other hand have accused the ATS of botching the covert operation they had launched to nab the two bombers.
Meanwhile, Maria said in Mumbai today that Naqi Ahmed, a resident of Delhi but originally from Bihar, had acquired mobile connection by using fake documents and had visited Mumbai on the instructions of Yasin Bhatkal.
Maria also informed that Mumbai Police had randomly checked 26,450 mobile connections and found a whopping 36 per cent were obtained by submitting fake documents.
In the meanwhile, the Shiv Sena raked up the role of 'outsiders' in terror strikes and declared that the suspicion that terrorists were harboured and trained in Bihar and Uttar Pradesh, has been vindicated by the arrest of the two young men from Bihar by the ATS.