M A I N N E W S
Literati lambasts cancellation of Rushdie's session
Vandana Shukla/TNS
Jaipur, January 24
The last debate of the 7th Jaipur Literature Festival was titled 'This House Believes that Man has Replaced God'. And it was proved so.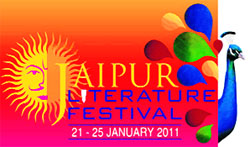 With Rushdie's much-awaited session not taking place, an impromptu session was organised under heavy security to debate the decision to cancel the video address. The doors of the Front Lawns were closed to avoid any untoward situation.
Tarun Tejpal, journalist & author, said that though it seems like the victory of bigotry, it is only momentary. "We expect more trouble, but, we will deal with it, because, this is not the first time India is facing this crisis. Ever since the Partition, when Pakistan was created on the basis of a religion, we are faced with such situations, and we have dealt with it. But, if some elements think that they have succeeded in silencing Rushdie's voice, they are wrong."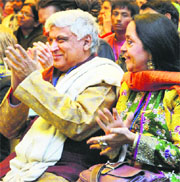 Lyricist Javed Akhtar and singer Ila Arun at the Jaipur Literature Festival on Tuesday. — PTI
Lyricist Javed Akhtar said in India one hears of bans often when it comes to films. But one has never heard of ban on a film director or producer. Rushdie's book has already been banned by the government. So, the demand to ban the writer is going out of the realm of the law. "All civilized societies have to follow a law, and if they ask for equality, they should also follow liberty ensured in the Constitution for others," Akhtar opined.
Actor Rahul Bose read out the section of the Constitution that ensures freedom of speech and asked people to decide for themselves if what was happening at JLF on Tuesday was correct according to the Constitutional guidelines. Poet, writer Ashok Bajpayee said he was amused that in a country where writers and books carry no value, a state feels threatened by a novel. "The Satanic Verses was banned under the Custom's law, hence, reading of the book by the four authors was not unlawful. They were just protecting the dignity of a fellow author.
The entire panel exhorted the house to take the incident as a wake-up call and ensure that freedom of speech in not throttled in future.