COLUMNS



THIS ABOVE ALL

TELEPROMPT

GOOD MOTORING

LIFE'S LESSONS

LEXICON

NETWATCH

SPORTS & WELLNESS


FITNESS MANTRA

FOR CHILDREN



CROSSWORD

RHYME TIME
Earlier Feature


TELEVISTA


AUDIO SCAN
Beyond the commerce of art
As a host of art galleries are ready to take part in the carnival of visual arts, the much-hyped India Art Fair at New Delhi, the role of private art galleries in the lives of artists' stands further reinforced. Nonika Singh explores whether the relationship of co-dependency works in favour of art or not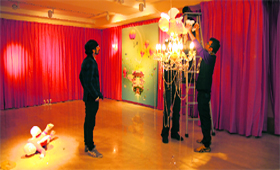 The much-touted India Art summit, rechristened India Art Fair, is back with a host of art galleries in tow. It is a grand total of 91, out of which 46 are from India. And it's not just the India Art Fair that showcases gallery power in the world of art, many private art galleries seem to have taken upon themselves to showcase India's art.

Jiten Thukral and Sumir Tagra work on an installation during their ongoing exhibition at Gallery Nature Morte, Gurgaon

A desi girl in Hollywood
Noureen DeWulf, an Indian American actress, is currently making waves with her looks and talent, reports Howard Cincotta
What is a common denominator for film, music, fashion and virtually every other manifestation of pop culture — whether Hollywood, Bollywood, New York, Paris, Tokyo or London? Correct answer: beautiful women in alluring poses.
Mumbai to get its own Cellular Jail
The first museum to be dedicated to revolutionaries of the Indian freedom struggle will be set up in Dadar, reports Quaid Najmi
Soon a replica of the famous Cellular Jail in the Andaman and Nicobar Islands, along with some original fittings and articles, will be seen in Mumbai at the country's first upcoming museum dedicated to revolutionaries of the Indian freedom struggle.
Heart break
Losing a loved one can really break your heart. In fact, the risk of an attack is significantly higher on the first day of bereavement itself, say researchers. A study has found that the death of a loved one makes you up to 21 times more likely to suffer a heart attack within a day of your loss; and during the first week of bereavement, the risk is almost six times higher than normal.
SPORTS & WELLNESS
The Do-or-Dive spirit
Chandigarh boy Ranjit Bajaj becomes the first Indian to swim in the Pumori Glacial Lake. The Limca Book of Records is all set to include his feat in their 2013 edition. Bajaj talks to Vaibhav Sharma about his desire to push himself beyond the limits
What defines the character of a man is often what he defines as his limit. The point where he thinks he cannot go on. Where he gives in and turns around, ready with an excuse. But then character is like a rough diamond. Some people live cozy with the knowledge that somewhere inside the rough exterior, lies a shining gem, and some others, hit every possible obstacle, with utmost zeal, and look at the roughing up as an integral part of the quest.