A desi girl in Hollywood
Noureen DeWulf, an Indian American actress, is currently making waves with her looks and talent, reports Howard Cincotta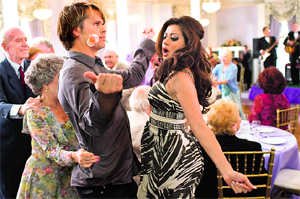 Noureen DeWulf in a still from Breakaway
What is a common denominator for film, music, fashion and virtually every other manifestation of pop culture ó whether Hollywood, Bollywood, New York, Paris, Tokyo or London? Correct answer: beautiful women in alluring poses.
Stunning Indian American actress Noureen DeWulf understands this fact as well as anyone, and she has graced her share of magazine covers, posed for publicity photos, and accommodated the desperate throngs of photographers on red-carpet runways. In 2007, Maxim magazine named her to its highly publicised "Hot 100" list of the most beautiful women in the world.
But DeWulf, 27, has also combined her acting talent, range and commitment to become one of the most active and sought-after television and film actresses in Hollywood today.
Since her 2005 debut in the musical film West Bank Story, DeWulf has appeared in 18 theatrical and television movies, plus 13 TV series and mini-series, often in multiple episodes. Her latest release is Breakaway, a comedy about an Indian Canadian hockey team. The animated film Zambezia is due out shortly. She also performs in improvisational theatre in Los Angeles.
"I put a lot of pressure to keep working," DeWulf said to the radio-interview programme Mr Media. "And when Iím not working, my agent books three auditions a day`85Iíd rather go to the set and work."
Her acting roles also demonstrate a remarkable scope. DeWulf has played a Palestinian cashier working in a falafel shop (West Bank Story), a girlfriend with an attitude and a pronounced Indian accent (Ghosts of Girlfriends Past), Jennifer Lopezís friend and pet-store employee (The Back-up Plan), and a recurring role as a nurse in the TV hospital series, Hawthorne.
Many fans of the TV spy comedy-drama, Chuck, fondly recall her epic martial arts battle in a yogurt shop with co-star Yvonne Stahovski.
In the 2010 film, The Taqwacores, which deals with the unlikely subject of Muslim punk rockers in Buffalo, New York, DeWulf plays the role in a burqa, even as her character, Rabeya, challenges religious orthodoxy at every turn.
"Despite DeWulfís covered face", said the filmís director to the British film blog EatSleepLiveFilm, "she outshines the burqa. When I see it now, I donít see the burqa, I see the person. She knocked it out of the park."
"It is challenging and hard not to accept all stereotypical roles that get thrown your way," DeWulf said to the online entertainment magazine Buzzine. "For me, Iíve been really, really lucky because I have been able to play a lot of different parts."
DeWulf was born in New York City to Gujarati parents from Pune and grew up in Stone Mountain, Georgia. She is fluent in Hindi, Urdu and Gujarati.
DeWulf quietly nurtured the dream of becoming an actress as a child, even though she wasnít permitted to take theatre classes. At Boston Universityís School of the Arts in Massachusetts, however, DeWulf threw herself into theatre courses and joined an acting company in Atlanta, Georgia, during summer breaks. In 2005, without any friends, connections or agents, she moved to Los Angeles.
"I was really nervous to come out here," she told Buzzine. "You put yourself out there, and perhaps you fail, then you have no job. I was kind of hesitant, but I made the leap of faith."
She addresses the contradictions of her strict upbringing and her Hollywood persona with refreshing candour. "Ironically, it was because I was raised as a Muslim in the South, that I realised the value in being true to who you really are," she said to the fashion and entertainment magazine Details. "Iíve just got so many things going on inside. I donít know how to resolve all of them other than being true to who I am."
DeWulf is frank in acknowledging that many of her film roles are not easy for her family to cope with. "But as I work in more roles, I think my parents are understanding. Itís not me doing those things but the character which Iím portraying," she said to SAPNA, the magazine for South Asian American women and desi girls.
At the same time, she observed, "I love my heritage both as someone who grew up as a Muslim and as an Indian ó itís part of who I am and I would never deny it." ó SPAN/ TWF