M A I N N E W S
PuNJAB POLLS 2012
Waiting for a new dawn
By Raj Chengappa Editor-in-Chief in Lambi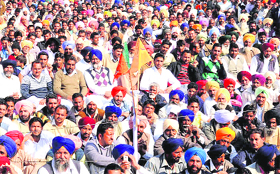 Villagers attend an SAD-BJP election rally on the last day of campaigning at Lambi on Saturday. Tribune photo: Pradeep Tewari
It's Basant Panchami - the first day of spring and the last day of the campaign for Punjab political parties. At Lambi, the constituency of Chief Minister Parkash Singh Badal, the sky is a glittering blue, the earth is carpeted with golf-green wheat shoots and the crowds that gather at the political rallies with their colourful turbans from a distance resemble a multi-hued poppy field in full blossom.
Young boys on rooftops fly kites and have 'string-fights' as a gentle breeze lifts their paper missiles into the firmament.
Lambi is ground zero for all the key political parties as Badal's opponents descend to challenge the lion in his den. Around noon, Captain Amarinder Singh, Punjab Pradesh Congress Committee chief, flies in a red and white Bell 412 helicopter and lands close to Badal village. It's not a statement - it's just that the helipad is located there.
The Captain, wearing a spring green turban, offers me a ride in his shiny Ford Endeavour so that we can talk as he heads to the Baba Man Singh stadium in Lambi to address a rally. He occupies the front seat next to the driver while I wedge myself into the back seat in an impossible fit with Hardeep Inder Singh Badal, a cousin of Parkash Singh Badal who is a Congressman, Lt Gen (retd) TS Shergill, the Captain's war room chief and Jagmeet Brar, a CWC member.
The Captain turns around to Hardeep Badal and asks him whether he should attack the Chief Minister in his speech. Hardeep replies, "The old man is already down so there is no need to deliver a knock-out punch" and everyone laughs. Amarinder thinks that the Congress is going to fare much better in the Majha and Doaba areas than it did in 2007. "There is a definite anti-incumbency wave in our favour," he says. It's the Malwa region, which accounts for 65 seats, which the Captain thinks is the real battleground.
The Captain's own assessment is that the Congress is all set to a get a minimum of 60 seats, enough to form the next government. Would Rahul Gandhi recently endorsing him as Chief Minister help? Captain nods his head and says: "When I thanked him he said there was no need to as he had instructions from the High Command to say so."
As we drive past verdant fields, I ask Hardeep Badal if these are the Chief Minister's property. Hardeep says that at one time they all owned equal shares. The Captain spots a chance to take a dig and says while Badal's relatives live modestly the Chief Minister and his son have several five star hotels and other businesses.
At the meeting, which is fairly large by Lambi standards, Amarinder continues his tirade against the Badals. He mocks at their boast of development and says the pictures of a bullet train they use is from Japan and the sky-scrapers are from Manhattan. "It's to make you forget how much the family has looted you over the years," he thunders and is greeted with smiles and ovation. The Captain connects with the crowd as he talks of providing employment, bringing industry and alleviating "Garib Punjab." Then he is off to the next meeting.
Not far from where the Captain held his meeting, the Shiromani Akali Dal (SAD) has got together an impressive gathering for its rally. It's far more organised with crowds being entertained by singer Harbhajan Mann before Parkash Singh Badal and son Sukhbir turn up. The air is festive - almost like a rock show as Mann belts out hits with speakers on full blast.
The volume isn't reduced when Sukhbir walks in and as he shouts 'Sat Sri Akal', the crowds roar in response. Opinion polls may show that the SAD is down but Sukhbir is full of pep, only stopping to greet his father respectfully. "The SAD is heading for a landslide win - why only 117 seats if there are 120 we would win all of them," he tells the crowd.
Sukhbir doesn't spare the Captain in his speech. Pointing to his father, he says that while the Chief Minister works 24X7 for the people, the 'maharaj' gets up only after noon. His cousin Manpreet and his Peoples Party of Punjab (PPP) is the butt of his jokes. Punning on the acronym of Manpreet's party, Sukhbir says all his cousin can do is blow his Pippini (paper flute) and tell his party men to Pi Pi Pi (drink up).
Despite his age, there is no tremor in Parkash Singh Badal's voice as he speaks. He too doesn't spare Amarinder and says, "Leave alone being available to his MLAs, the Captain is not available to his wife." He takes the family split head on and talks of how his brother, Gurdas, who is standing against him in Lambi, and Manpreet had betrayed his faith in them. "I would have made Manpreet the Chief Minister if he asked me," he says.
Meanwhile, Manpreet spent the last day of the campaign holding street side rallies in Giderabaha his constituency. Manpreet drives his own Toyota Fortuner and is very much a man of the people. Truck drivers wave to him as he sails past and so do farmers piloting their tractors. "People want to see change they are fed up with politics as usual. Both these parties represent the status quo. For the first time, the PPP offers a secular third front," says Manpreet.
Using a motoring term, he says, "My focus is to kick-start the economy." Then he points excitedly to a black partridge on a field and says, "What a beauty - did you see it." Manpreet says he is confident of winning at least 22 seats which would make him a kingmaker. He is coy as to who he would partner in case such a scenario happens and doesn't rule up tying with the SAD if they "implement my programmes in toto."
We part at the crossroads of Bathinda and Lambi. The sun is setting and the sky is aglow in a bright red. The voters in Punjab will now decide which party will experience a new dawn.