The Brunners in India
Elizabeth Brunner and her mother may not have been great painters but there is an artlessness in the way they approached and completely embraced India and Indian themes in their works
"After I had completed the portrait and showed it to Gandhiji, he looked it over with an expression so profound that I can recall his face as vividly today as I saw it then. There was such depth of meaning and spirit in it. After he had finished looking the portrait over, he took my brush and wrote his signatures on it."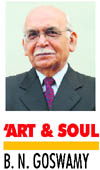 THE words are those of the painter and seeker, Elizabeth Brunner (1910-2001), who, like many other distinguished Hungarians — JakabKrausz, Alexander Csoma de Koros, Gottlieb Leitner, Aurel Stein, Ervin Baktay, Amrita Shergil (even if only half-Hungarian) — engaged passionately with India at one level or another: scholarly, spiritual, artistic, political. Hers is a story — engagingly told or edited in a recent book by Imre Lazar — that takes one across the entire country, beginning, interestingly, with her heading, along with her mother, in 1930 for Santiniketan, for that is where Rabindranath Tagore lived then.
It was the great poet and artist, who drew her to India for, as she narrated, he had appeared to her in a dream when she was just 19 years old, and still living in her home in Hungary. She did not know who the person in her dream was: an old man with a white beard holding a candle, who spoke to her, saying "Take this light to every nook and corner of the world", and then disappeared. But when she narrated the dream to her mother, Elizabeth Sass Brunner, also an artist, the mother told her that the person in her dream was none other than Rabindranath Tagore. Clearly, all this had something to do with the fact that the poet had stayed in Hungary for some time in 1926, on the banks of the Balaton Lake, and left a deep impression upon the minds of the people. In 1929, mother and daughter set off for India, wearing long dresses made of hand-woven cloth and nearly barefoot.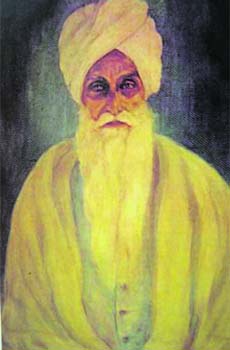 The Saint of Beas. By Elizabeth Brunner. Beas, 1932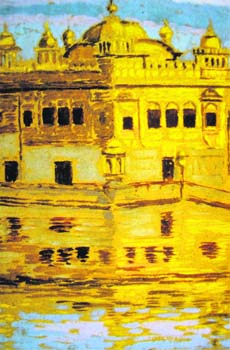 A view of The Golden Temple. By Elizabeth Sass Brunner. Amritsar, 1932
The writings and reminiscences of Elizabeth (born Erzebet) are filled with people and places in India. "I have always been interested in different places, different things, different faces", she wrote once and continued: "...in different persons, whose character reveals, through the sparkling of the eyes, spiritual depth."
Understandably, she and her mother, who was in search of 'mystic India', sought out and met a remarkable range of people, apart from Rabindranath Tagore with whom the twosome spent a lot of time in Santiniketan, like Mahatma Gandhi, Jawaharlal Nehru, Krishnamurti, and Stella Kramrisch. Their Indianness of appearance and spirit seem to have given them easy access to many, something that is recorded in a number of photographs and letters. We see Elizabeth peering over Rabindranath's shoulder as he gazes at a painting of hers, setting up an easel in Pandit Nehru's office to paint a portrait of his even as he sits on his table and keeps working, waiting outside the room of Mahatma Gandhi whom one can see resting, possibly before giving her a sitting. And so on.
But, of course, there were others whom the mother and daughter met and painted here in India, which eventually became their permanent home: princes and nawabs, viceroys and resident-agents, diwans of states and nobles of different ranks, dancers and mystics and men of god. Almost all encounters that they described and wrote about are of interest but of special interest might be a record of their encounters in the Punjab.
The, then, Maharaja of Patiala, Bhupinder Singh, who met the two ladies at a reception given by another prince, took an instant liking to them and invited them to visit his state and spend time with his family. They were struck as much by the place — "we were most fascinated by the old, historical fortress and`85 its beautiful interiors" — as by the Maharaja's interest in sports and games where "the whole population would turn out and there would be a military band with a Viennese conductor". There is a description of the "seven Maharanees" of the Maharaja, "his daughters, the princesses, and the three hundred ladies living in the palace", all "dressed in valuable Punjabi silks and `85 loaded with jewels".
There are other, more diverting accounts: thus, of Elizabeth seeing two or three rows of "lovely little children" sitting in a stadium to watch games and being told on inquiring whose children they were: "Oh, they are all his (referring to the Maharaja), all 28 of them", all in addition to his older children, boys and girls; or of the Maharaja getting very excited at seeing a painting, 'The Rainbow Desire", that showed a nude female standing in a pool of water, and wanting to buy it at once, only to be refused by the artist.
But there are other, sensitive descriptions of what the Brunners saw in Punjab: the Pinjore garden, for instance, with its "white buildings and the palm avenue shimmering in the light of the full moon, to the accompaniment of the sound of the cascade and the playing of the fountains"; of their visit to Chail where preparations were in full swing for the marriage of one of the Maharaja's daughters, all shy and tremulous; of the Golden Temple in Amritsar, which so inspired them that they wanted to paint it from various angles and sought special permission to do this without being disturbed. This, Elizabeth writes, gave her mother the full opportunity to use her gift for painting reflections in water: "one of her most beautiful pictures shows the last ray of the setting sun illuminating the gold of the richly ornamented temple, reflected in the water, along with pastel shades of the evening sky."
And then, there is an account of "the Saint of Beas" — unnamed in the account, but clearly Maharaj Sawan Singh — whom the mother and daughter had first met in Rawalpindi. At Beas, "not far from Amritsar", the Brunners stayed for five days where "tens of thousands of people" kept coming. This, for Elizabeth, was a unique experience, and an opportunity to paint the saint. "His piercing and alert eyes fascinated me, especially as they were greyish in colour".
This is the way the account of Elizabeth Brunner runs throughout this book. Neither mother nor daughter might have been great painters but there is an artlessness in the way they approached India and Indian themes, and completely embraced them. That artlessness is, in many ways, touching.