We, the corrupt people
Reviewed by D S Cheema
Corruption in India
By Bibek Debroy and Laveesh Bhandari. Konark. Pages 193. Rs 350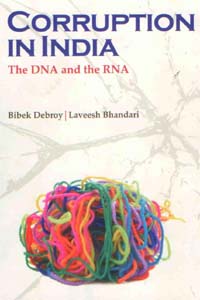 IT has been the idea of democracy enshrined in its institutions and political practices that has survived and endured in India for the past more than six decades. It is well established that only democracies are responsive to public pressure and India, in recent times, has been a witness to the power of that pressure.
While India is shining in many areas, it is definitely outshining in corruption. We cannot take solace in the fact that it is a global phenomenon, as in India, it is in higher league. Corruption is widely seen as having seeped into the entire administrative fabric and the bone- marrow of average Indian. Gandhi's outburst in May 1939, against rampart corruption in the Congress ministries formed under the 1935 Act in six states in the year 1937, shows the magnitude of the problem even in those days, "I would go to the length of giving the whole Congress a decent burial, rather than put up with the corruption that is rampant."
It is estimated that Indians pay a whopping Rs 26728 crore as bribes every year. It seems corruption has taken over India.
There can be many variations of the definition of corruption itself. It is broadly defined by World Bank as "use of public office for private profit". Whatever the definition of corruption, even when used in a broader context and not in narrow legalistic terms, it is understood as dishonesty and unfair behaviour by people. Taking a cue from biology, the authors categorise corruption in two parts; DNA (deoxyribose nucleic acid) and RNA (ribonucleic acid). While DNA is the small-ticket corruption, RNA is comparable with large-ticket corruption.
This book by two eminent economists is very valuable in these inflammatory times. The Indian Constitution provides for a "Socialistic, secular, democratic republic with a guarantee of social, political and economic justice to all". The basic elements which are responsible for corruption are poor governance, low use of technology, inappropriate assignment of discretion at different levels and lack of transparency and accountability. Unfortunately, any governance divides citizens in two categories, "those who govern" and "those who are governed" Power is the most pertinent ingredient of governance and hence those who are governed do not get the justice the Constitution promises.
Making governance transparent, participatory and people –friendly threatens the power structure in any governance system. Discretion, whether in the form of quotas or otherwise, is a major source of corruption. Discretion regularly used by politicians or public servants in land acquisition, change of land use, building laws, allotment of land etc has played havoc with the economic justice our Constitution provides an ordinary citizen. It is well known that reducing discretion reduces the scope of corruption but in the absence of any political incentives the politician does not act. "How India and the world rate India", shows India and Indians a mirror, facts and figures supported by reputed international agencies. The fact that all corruption is anti-poor, has been highlighted in the chapter, "Robbing the poor: Welfare and Graft"
The authors warn that though India has not yet been reduced to a kleptocracy, "it appears to be well on its way to becoming one". It seems jelly fish sometimes swallows a snail. Snail stays protected and alive inside because of its hard shell. But to survive it starts eating the fish till the entire fish is consumed. Corruption is corroding the moral fibre of the country. Karl Kraus (1874-1936), Austrian satirist, rightly says, "Corruption is worse than prostitution. The latter might endanger the morals of an individual; the former invariably endangers the morals of the entire country".
No form of corruption is need-based; it is always greed-based. Corruption in India is a low-risk, high-gain activity What we need in our country is a comprehensive statutory regime which provides an acceptable code of conduct for civil servants, laying down a constitutional frame work within which they should operate, along with swift and deterrent punishment for those violating the code.