Chilly treat
Keema bhari lal mirch from Hyderabad is equally enjoyable with phulka as well as rice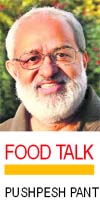 IT is no secret that those who live in the city of Charminar are particularly fond of mince. They have it with peas, eggs, and stuff a variety of vegetables with this spicy stuff.
Sometimes, the dish is finished on dum and gives the joy, at other time in baked incarnation. Our favourite recipe, which makes us drool, is prepared with plump red chillies, the kind used for achaar in Gorakhpur and other places.
The chillies are not hot, have a distinct flavour of their own and provide a splash of colour that is a feast for the eyes.
The spicing of the dish can be varied, according to taste. The dish is equally enjoyable with phulka and rice. By the way, the lal mirch contributes a crunch that is absolutely delightful.
Keema bhari Lal Mirch
Ingredients
Fresh red chillies 6-8
Mutton mince 500g
Turmeric powder ½ tsp
Onions (medium, sliced fine) two
Ginger paste ¾ tsp
Garlic paste ¾ tsp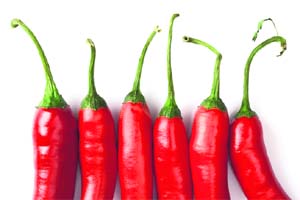 Clove powder ¼ tsp
Green cardamoms (seeds powdered) two
Cinnamon piece 1 inch
Lemon juice one
Oil 2/3 cup
Salt to taste
Method
Heat oil in a thick-bottomed pan. Put in the bay leaf and cinnamon stick. When these change colour, put in the mince and salt, along with the turmeric, red chillies, ginger and garlic paste and fry till the moisture dries up. Add a cup of water and cook till the mince is done. Pour in the lemon juice. Remove from stove and keep aside to cool. Slice chillies neatly along the length to scoop out the seeds. Take care not to cut through the chillies. Stuff the chillies with equal portion of mince. Heat the remaining oil in a pan. Brown the sliced onions. Add the remaining mince and stir-fry for about five minutes. Add a little water.
When the water begins to simmer, gently put in the stuffed red chillies and cook until the chillies soften a little. Sprinkle over with clove and cardamom powders.