Bone-Chilling Winters
It is in such deep-freezing cold that birds and trees explode and humans perish without a hope. This place is Drass, the second coldest place on the planet, after the Yakutian Tundra in Siberia. Life is cherished for six months in summer,
writes Navreet Milton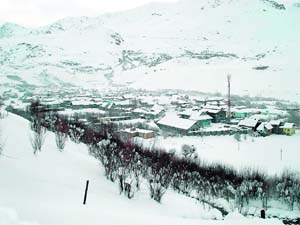 Drass town under a thick blanket of snow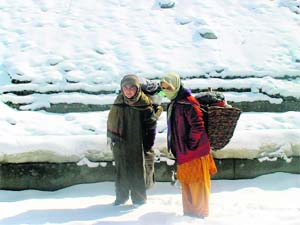 Women near the frozen River Drass
Photos by the writer
Drass is the second coldest inhabited place in the world, after the Yakutian Tundra in Siberia. This valley is snowbound in winters, with excessive layers of snow and chill breeze. It is cut off from Srinagar for at least six months, while connectivity with Kargil remains at stake during the winter months. The lifeline of the people of Drass is via Srinagar through the Zoji la, which closes down during the winters due to heavy snowfall, thus forcing the locals to stay indoors. The minimum temperature ever recorded is of 1995 dipping to minus 60`BAC. Even now, the coldest temperature record is when the mercury has dipped to 30 to 35`BAC.
"The year 1995 was the time of punishment for all of us," recounts 81-year-old Gulam Rasool in a trembling voice running his fingers through his white beard. He further describes how the residents of Drass witnessed their animals dying in closed sheds because of such a low temperature. The trees also make horrifying sounds, a phenomenon witnessed when the mercury dips below minus 45 `BAC.
Survival in harsh winters is very tough. Water, the basic necessity, too freezes. Though spring water does not freeze but every nook and corner is not blessed with this natural gift. Water tankers deployed by the Public Works Department (PWD) supply water to the residents. Imagine, life here before development in this region and town. At times, due to heavy snow, tankers don't reach the destination and the locals have to shovel the snow and melt it for consumption for drinking and other uses. "We also use water from the frozen river by making a cavity in the frozen surface and drawing water from beneath. This water is further transported on horses and mules to our homes, which is a Herculean task," says Gulam Zaffar of Murad Bagh. He says, "About seven years ago, we were given telephone connections by the BSNL, which was a boon for the people of Drass. However, come winters, and the underground cables get affected due to the accumulated snow. These have not been repaired for more than a year now."
There are no fresh vegetables and the locals are dependent on lentils and dried food stored during the summer months. Barley is the staple diet, which they consume in the form of chapattis and sattu (barley powder) from which they make a local delicacy called papa (cooked in water and eaten with mutton soup or pure ghee), which is very nutritious and helps to beat the chill. Mutton, which has been stored in summers, is consumed in winters. Yak flesh is preferred as it is cheaper than that of goat and sheep. The quantity of meat stored depends on the size of the family and varies from one- two quintals. The temperature is so low that it remains in good condition till the summer approaches. All this adds to the cost of living, which is very high as all their earnings during the summers are diverted towards stocking winter necessities.
Their houses are generally made of mud and stones with the local chullahs/stove in their kitchens also made of mud, though most houses have an LPG connection now. There is no concept of having meals separately, they all get together in the kitchen and eat together. This not only binds them but also saves fuel as they all sit around the chullah, which warms their food as well as keeps them warm.
Every house has a bhukhari (it is a kind of stove that has coal or kerosene burning within that radiates heat and warms the room). Traditionally, coal, wood or sawdust were used but modernisation has introduced kerosene and LPG-supported bhukharis. Every rooftop in town is well stocked with dry hay, which to some extent keeps the rooftop warm. The hay is nicely covered under a shade of plastic sheet or a shed.
There have been many cases of fatal deliveries due to non-connectivity of roads and poor medical infrastructure to get treatment in the winters. Rashid, a local resident of Drass, says, "Climate is a natural phenomenon but the fault is that of the government, which has not looked into our medical needs and infrastructure".
Tears well up as he narrates the story of his daughter, who was expecting when suddenly her condition worsened with untimely bleeding causing distress. Eventually, she delivered a still-born baby. Had here been a gynaecologist in Drass, then many women would have not lost their babies. There is no end to such stories in Drass.