Pay more for your fat
Many air travellers say 'yes' to 'fat tax'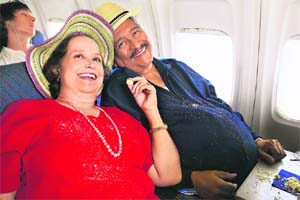 Heavyweights may disagree with the idea of airlines charging "fat tax", but a survey says a significant number of air travellers agree that obese people should pay more to fly.
According to the survey, 76 per cent of the respondents believe that airlines should charge "fat tax" due to the additional fuel burnt, though only 22 per cent of the 550 persons polled opposed such a move.
"The so-called 'fat tax' is a very sensitive issue for airlines; they would have to tread carefully so as not to alienate heavier passengers. On one hand, it's not unreasonable for airlines to charge passengers extra if they occupy more than one seat.
"On the other, many would argue that it should be the responsibility of airlines to adjust their standard seat size, enabling them to comfortably accommodate all passengers," the co-founder of travel website 'Skyscanner', which conducted the survey, Barry Smith, said in a release by AsiaNet.
The survey came just days after former Qantas chief economist Tony Webber suggested that heavy people should pay more to fly in the same way passengers pay additional charges for excess baggage. However, the idea was outrightly rejected by Australian air carriers. — PTI