Sand,sheikhs & shopping
Amid Dubai's dazzle and futuristic dash into the next century, there lies another gentle and poignant side. Krishnaraj Iyengar explores the Emirate's legacy of Arab traditions and hospitality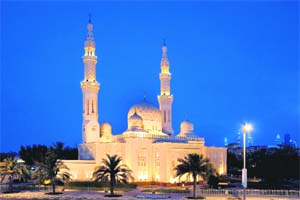 Jumeirah Mosque at the Sheikh Mohammed Centre for Cultural Understanding is a major tourist attraction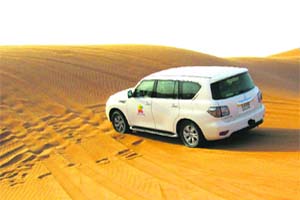 For thrill seekers, a desert safari with a dune bashing in the sand offers an interesting experience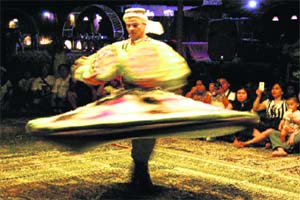 An enthralling performance by a dervish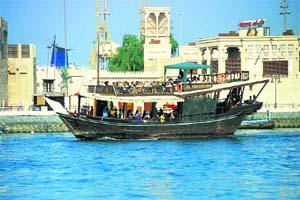 Dhow cruises along Khor Dubai (Dubai Creek) are a symbol of Emirati lifestyle Photos by the writer

THE world of swank Rolls Royce cars, super-chic seven star hotels and sprawling malls, bearded billionaires in their sparkling white robes fragrant with the musk of oud and million-dollar yachts, ready to dazzle on the simmering waves — it all sounds like the perfect joie de vivre. But beyond the Midas touch of what was once a tiny fishing harbour, Dubai's rich kaleidoscope also has a rich legacy of Arab traditions.
The Bedouin's tale
The earthy strains of lilting single-stringed rabab blend perfectly with the cool desert breeze, old-style dhows gently sail along the creek and a pinkish hue envelops the sky as the sun sets over the sand. At Dubai's traditional Bedouin Heritage Village, the legendary Arabic hospitality, classical poetry, heart-rending music and the warmth of its affable folk are heart-warming as ever.
A relaxing stroll through the village with signs in Arabic and English unravels the old-world charm of the traditional mud houses, Bedouin tents with thatched roofs and old lanterns, the barjeels or wind towers, built in the olden days to direct cool wind to the home during scorching summers, and a diving village that tells you about the city's pearl diving legacy. Savouring traditional cuisine and browsing the souvenir shops selling traditional handicrafts like lamps, carpets, musical instruments and ornate paintings complete the experience.
Hint of history
The Dubai museum built over the historic Al Fahidi Fort is Dubai's oldest existing building. It is a fascinating rendezvous with the city's intriguing history. Two formidable cannons next to which stands and an old dhow (traditional boat) are a fine welcome to the estimated 1,800-plus guests per day! The museum houses life-like statues depicting early Arab life, of Bedouin craftsmen, pearl divers and traders, jewellery and handicrafts, the old port and the history of trade with India and Africa, a creek-side souq (market) and realistic videos of craftsmen at work with sound and visual effects.
The museum also has traditional summer houses known as arish weaved from palm fronds with a barjeel wind tower and a central courtyard with traditional boats. There is a gift shop to pick up mementoes.
Dunes and dervishes
For those with intestines of steel, a desert safari with an hour of dune bashing in the coppery-mauve sand is a great thrill! Speeding in a Landover, rocking over the dunes, you literally 'hold on to your hats' before arriving at the base camp where, in a traditional Arabic desert setting, a soiree of dance, music and authentic cuisine awaits as a reward for your endurance.
An enthralling dance performance by a colourfully robed, whirling dervish followed by a sensuous belly dancer swaying to catchy traditional rhythms like Baladi and Ayyub on the darabooka drum are a treat, along with puffs of the Arabic sheesha with mouth-watering hummus and falafel.
Sailing past two colours
Another sought-after experience for lovers of traditional Arabic culture is the relaxing dhow cruises along Khor Dubai (Dubai Creek). In the world's fastest growing megapolis, these genteel icons of traditional Dubai have been vehemently preserved as a symbol of a more relaxed Emirati lifestyle.
In the traditional harbour front of Deira, hundreds of anchored traditional dhows still plough through the Persian Gulf trading with neighbouring countries.
Savouring Arabic cuisine and dancing to popular numbers by icons like Amr Diab and Najwa Karam, one can enjoy a panorama of graceful, traditional Arabic architecture in sharp contrast to futuristic glass and chrome edifices scaling the skies on both sides of the creek.
Pluralism par excellence
Dubai's Jumeirah Mosque at the Sheikh Mohammed Centre for Cultural Understanding attracts international tourists round the year where they learn about Arabic culture and Islam. The centre, with the motto 'open doors open minds' is an initiative by Dubairuler His Highness Sheikh Mohammed Bin Rashid Al Maktoum to promote cultural understanding and pluralism within Dubai, a city known for its religious and cultural diversity and tolerance.
As per Islamic traditions, guests have to be modestly dressed right down to the feet and women have to cover their heads while entering the mosque. Two British women welcome you with the Islamic greeting Assalaamu alaikum wa rahmatullahi wa barakaatuh (may peace be upon you and the mercy of God and his bounties), explaining the nuances of the holy Quran and its teachings of universal brotherhood and peace.
Explaining the Five Pillars of Islam, the women demonstrate salaah or prayer followed by a question-answer sessions by guests in the tranquil environs of the Jumeirah Mosque.
FACT FILE
HOW TO REACH
Several airlines have direct, daily flights to Dubai from various Indian cities.
WHAT TO DO
Dubai can be explored by private or efficient public transport/metro. Many service providers offer complete packages right from chauffeur-driven cars, desert safaris, dhow cruises and city tours.
WHERE TO STAY
Dubai offers a kaleidoscope of upper-crust luxury hotels like the famous Burj Al Arab, Armani and Royal Ascot, while for more homely and reasonably priced accommodation, the Seven Sands Hotel Apartments is a good choice
WHAT TO EAT
One can enjoy a variety of international and Arabic cuisine in Dubai